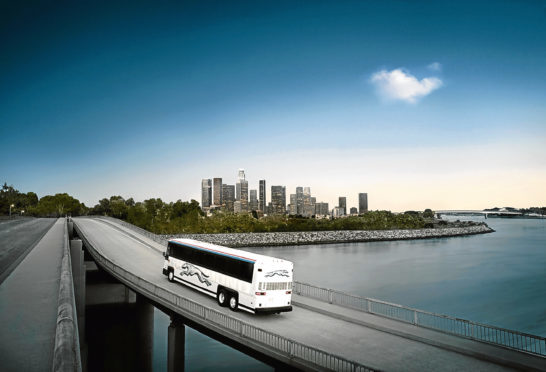 FirstGroup shares plunged 12% to 84.4p after a profit warning from the company yesterday.
The Aberdeen-based transport giant blamed challenges faced across the Atlantic, where bad weather, driver shortages and airline competition for its iconic Greyhound buses have hampered North American operations.
Sweeping tax reforms enforced by US president Donald Trump helped to drive down the tax rate in America to the "mid-20s", offsetting some of the negative impacts.
The share price collapse wiped about £140million off FirstGroup's market value.
It comes less than a week after Standard Life Aberdeen, whose fund management arm is based in the Granite City, suffered a £900million-plus hit to its shares after Lloyds Banking Group pulled the plug on £109billion-worth of business
FTSE 250-listed FirstGroup said its outlook for earnings per share in the current trading year was "slightly reduced".
Its three US divisions – First Student, First Transit and Greyhound – were confronted by "extremely challenging" weather in January, while airline competition for Greyhound "intensified".
The firm also announced it would rake in £14million a year in interest rate savings, thanks to a £197.3million bond refinancing.
In a trading update covering business since September 30, chief executive Tim O'Toole added: "We reached an important milestone in the period, with our long-dated bond portfolio beginning to mature, allowing us to significantly reduce our interest burden by starting to refinance and rebalance the group's debt."
Despite the profits alert, FirstGroup said revenue for the trading year to date was up by 10.7%.
Takings have been boosted by like-for-like passenger revenues at First Rail and First Bus, up 3.2% and 0.9% respectively.
Stripping out exchange rate movements and the group's new South West Rail franchise, group revenue lifted by 1.1% over the period.
Mr O'Toole added: "Notwithstanding the mixed trading picture in the period, we continue to expect substantial cash generation for the year as a whole."
FirstGroup shares have plunged nearly 30% over the past year.