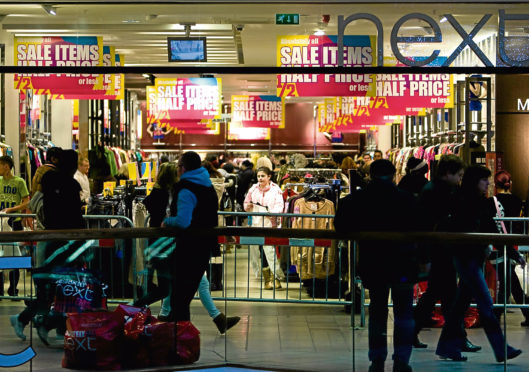 The boss of Next has described 2017 as the "toughest year" in more than two decades as the retail giant posted its second consecutive fall in annual profits.
In further signs of pain on Britain's high streets, Next reported an 8.1% drop in annual pre-tax profits to £726.1million, while total sales slid 0.5% to £4.1billion.
Sales were dragged lower by a 7.9% slump in revenue at its shops to £2.1billion, while online revenue grew 9.2% to £1.88billion, helping to soften the blow.
Next, which has six stores across Grampian and the Highlands, pointed to "product ranging errors and omissions" as contributing to the poor showing, a result of the firm failing to provide customers with key items, as well as the shift away from consumer spending on clothing.
Chief executive Lord Simon Wolfson said: "In many ways 2017 was the most challenging year we have faced for 25 years.
"A difficult clothing market coincided with self-inflicted product ranging errors and omissions.
"At the same time, the business has had to manage the costs, systems requirements and opportunities of an accelerating structural shift in spending from retail stores to online."
Consumers and businesses have also been hammered by rising Brexit-fuelled inflation, with Next having to pay up to 12% more for its products as a result of the pound's post-referendum slump.
It jacked up shop prices 4% as a result last year, but Next said it expects some relief towards the end of the year as inflation eases.
The firm also warned that 2018 will continue to be tough as the sector remains under intense pressure, saying the "wider economy, clothing market and high street look set to remain challenging".
George Salmon, equity analyst at Hargreaves Lansdown, said: "The headwinds facing the clothing sector, which include cost inflation, weak high street footfall and tighter consumer spending, are well known.
"However, the fact Next says it's endured the toughest year since its near-death experience in the early 1990s, underscores the extent of these challenges."
The figures come at a time of growing concern for brick-and-mortar retailers.