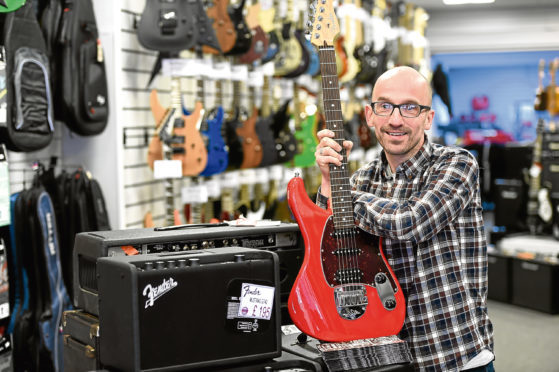 Each week, we ask small businesses key questions. Here we speak to Roger Catherwood, owner of The Music Shop in Church Street, Inverness.
How and why did you start in business?
My father, Len Catherwood, managed Bruce Miller's music shop in Inverness from 1972, so I was exposed to the trade from an early age. I first began working for him as a Saturday boy at the age of 14. My parents opened their own business in 1986, after Bruce Miller shut, and I joined them.
I became self-employed in 1991, on my return from studying business economics at university.
How did you get to where you are today?
I worked alongside my family in our shop in Queensgate from 1986, and then we moved into 27 Church Street in 1992. My dad passed away in 2008, and since then my sisters, Diane and Donna, and I have run the business together.
On February 23 this year, we moved into bigger and better premises at 49 Church Street – the site of the former Music Station.
Our success is down to knowing and understanding both our customers and our stock really well, and ensuring the two match each other perfectly. It's all about providing great customer care and value for money.
Who helped you?
Working with family is challenging, but it's also very supportive and we all help each other. My brother, Mike, and my wife, Wendy, have been a great support over the years.
I've also had support from a wide range of industry contacts, and mixed business with pleasure on many a trip.
The Federation of Small Businesses has given us the guidance and support that a growing business requires. It gives us a raft of benefits – everything from legal and business advice to networking opportunities – and our membership is invaluable.
What has been your biggest mistake?
Not moving into new premises sooner. Our previous store was small but we managed, and it wasn't until we moved into our new, larger shop that we realised what we were missing out on.
What is your greatest achievement?
Working with my two older sisters for so long and still being on friendly terms.
More seriously, moving into our new shop was a huge undertaking, with all hands on deck and more. We all pitched in together and achieved our aim. It was well worth the effort and we have broadened our customer base, while feedback in the first month has been terrific.
Customers seem to like the extra space as it makes them feel more comfortable and gives them a chance to relax and enjoy themselves, while trying out their next instrument.
Inverness is a vibrant place, with some very talented musicians and a thriving musical heritage. We are very happy to play our part in that community.
If you were in power in government, what would you change?
The education system; they should encourage the brightest kids to grow at their own pace, while giving extra help to those who need it most. It shouldn't be one-size-fits-all.
I also think there should be more emphasis on music and sport – on things that build confidence in our kids for the future. Teachers also need more support, training and money.
What do you still hope to achieve?
To build on what we've achieved over the past 30 years. I am proud of what we've done but there is always something else to aspire to. We all enjoy a challenge.
What do you do to relax?
Listen to music, sit and read a book, or watch some TV or a film. I even go for runs, which does help.
What are you currently reading, listening to or glued to on the TV?
I love the sheer escapism of The Walking Dead, which is back for another season.
What do you waste your money on?
I really don't waste money but I do enjoy spending it on family holidays, nice restaurants and, of course, the kids.
How would your friends describe you?
Probably fairly quiet, thoughtful and calm, apart from when I follow my passion for Liverpool FC and rock band Pearl Jam.
What would your enemies say about you?
I wouldn't listen, but just keep calm and carry on.
What do you drive and dream of driving?
Cars aren't my thing – they are merely a means of getting from A to B. That said, I wouldn't mind an Aston Martin.