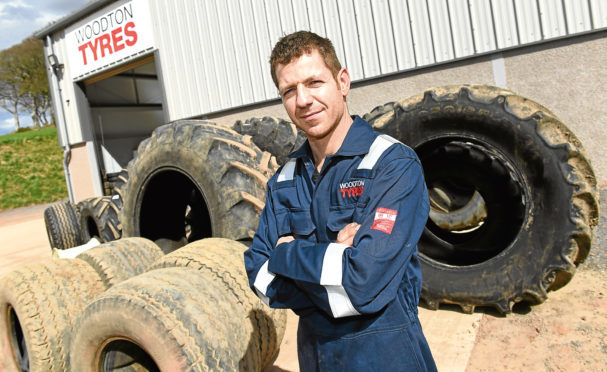 Each week we ask small businesses key questions. We speak to
Philip Totton, managing director of Woodton Tyres in Cuminestown, Aberdeenshire.
How and why did you start in business?
My partner, Claire, and I started Woodton Tyres in 2011, while I was still working offshore in the oil industry.
Our two children were very young and I was missing many of the key milestones as they grew.
We started the business more as a hobby while I was at home, working out of my father's old chicken shed. We quickly found that demand for a local, reliable and competitive tyre service was keeping us very busy.
How did you get to where you are today?
By providing services very few others were offering in the agricultural sector, including 24-hour call-outs and excellent customer service.
We were fortunate enough not to have to advertise because word of mouth provided us with more work than we could handle – a nice position for a small independent business.
Who helped you?
We have been very lucky to have had help and support from many people, including family and friends.
But we would not have got off the ground without my father, Wesley Totton; not only for giving us the use of our first premises, but also for giving me the encouragement, self-belief and support to make the jump from the oil industry – and a stable consistent income – to starting my own business and not knowing when my wallet would be full again.
We have also had fantastic support from both the Federation of Small Businesses and Business Gateway.
They have been invaluable points of contact for all aspects of running the business.
From payroll to legal advice, they never made us feel that our questions were daft even if sometimes they perhaps were.
What has been your biggest mistake?
Not starting the business sooner. We talked about it for at least a year before making the big leap.
What is your greatest achievement?
Designing and building our new purpose-built premises.
It has allowed us to expand and offer more services, such as car maintenance, welding, alloy wheel repairs, and also to grow our team and take on another member of staff.
If you were in power in government, what would you change?
The NHS is in such a pickle that I would like to see the additional tax the government is reaping from tobacco products, alcohol and sugar going straight there. Medical staff should be paid a decent wage for the amazing work they do.
This would encourage more people to work in the NHS and, therefore, reduce the currently unacceptable waiting times we see around the country.
What do you still hope to achieve?
We would like to expand further, opening more branches of Woodton Tyres across the north-east but maintaining our excellent customer service levels.
In the more foreseeable future, Claire would like to find a way of keeping a garage that services agricultural and HGV vehicles a bit cleaner but that is maybe a bit too ambitious.
What do you do to relax?
We like to spend time with our two girls bike riding, swimming and geocaching.
I am also a member of the North East Tractor Pullers Club and have built my own tractor from scratch. I unwind by tinkering and trying to improve its performance.
What are you currently reading, listening to or glued to on the TV?
Unfortunately, I don't have much time for reading but I do get very easily hooked on box sets such as Peaky Blinders, Vikings and Breaking Bad.
What do you waste your money on?
Easy question – without a doubt my tractor puller. Claire says it should have been called "the other woman" rather than Intimidator.
How would your friends describe you?
As a hard-working tyre geek. I haven't lived down the time I once followed a tyre tread pattern I recognised in the mud at New Deer Show to find out what it was on.
What would your enemies say about you?
Maybe that I'm overly positive but I'm not sure I have any enemies.
What do you drive and dream of driving?
I currently drive a Skoda Octavia, but would like to pass my HGV test and buy myself a lorry.