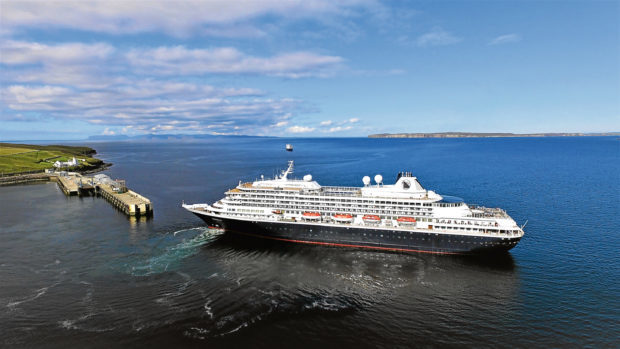 The start of the new cruise ship season at Scrabster coincides with plans to step up the port's involvement in the sector.
A new £15 million development would allow luxury liners to berth next to an 820ft pier.
The proposed refurbishment of Ola pier is at the exploratory stage, with options and detailed costings being worked up before any approaches to potential funders.
Scrabster's first cruise ship of the summer, the Astoria, arrived yesterday morning.
Buses took the 600 passengers and crew to Thurso and on outings throughout the north after they disembarked from the 16,244 tonne vessel, operated by Cruise and Maritime Voyages.
Port manager Sandy Mackie said the harbour had set its sights on growing its cruise business.
He added: "There's been big growth in overall cruising and, in particular, in respect of the Scottish cruise market.
"All the indications are that the market will continue to grow, with companies buying new vessels and political instability in some parts of the world making north Europe more popular.
"Some places are becoming a victim of their own success in terms of the pressure the arrival of the vessels is putting on infrastructure but we're not at that stage in Caithness."
Mr Mackie said the redevelopment of Ola quay was partly geared to help the port accommodate larger cruise ships.
It is intended that vessels will tie up on the seaward side of the new-look pier.
Currently, liners are accommodated at the deep-water berth at Queen Elizabeth pier.
Consultants have been hired to firm up options on a feasibility study, funded by the Nuclear Decommissioning Authority.
Mr Mackie said the intention was to use both piers for cruise traffic, with business growth fuelled by targeting small to middle-sized liners.
"We have been in this business now for over a decade and have demonstrated that we can do a good job," he said, adding: "We continue to get positive feedback from the cruise companies.
"But the growth has plateaued and the strategy we are pursuing is designed to address the constraints we are working under."
Cruise ships booked in at Scrabster this year include the recently-built Seabourn Ovation, which at 689ft will become the largest ship to berth at the Caithness port.
Harbour bosses have also just stepped in to accommodate the 15,000-tonne Hamburg on Thursday after a forecast of bad weather off the west coast ruled out its planned visit to Stornoway.