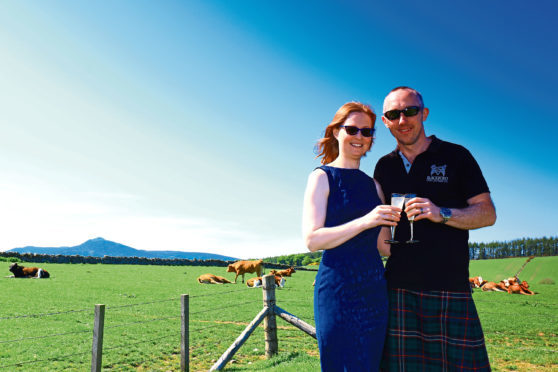 A small family-run north-east distillery is celebrating one year in business with the export of its product to Denmark.
After launching at the Taste of Grampian 12 months ago, Blackford Craft Distillery has sold more than 3,000 bottles and launched its third alcoholic drink.
Founded by Neil and Katie Sime, the Blackford portfolio includes Vesperis Pictish Gin, Vesperis Pictish Vodka and the new addition, Vesperis Heather Honey Vodka.
The new product uses Aberdeenshire heather honey from Udny Provender in Methlick.
Based on a traditional Polish honey vodka, known as Krupnik, it is believed to be the first of its kind using Scottish honey, and will be officially launched at Taste of Grampian this weekend.
Blackford Craft's first product, Vesperis Pictish Vodka, won a gold medal at The Spirits Business Global Vodka Masters just four months after launch.
The distillery's Vesperis Pictish Gin will also soon be exported to Europe following interest from a Danish retailer.
Mr Sime, a former oil and gas engineer and co-founder of the distillery, said: "Our first year as Blackford Distillery has been a whirlwind.
"We launched at Taste of Grampian in 2017 so to return on our first birthday, meet customers old and new, and be able to release our new expression, Vesperis Heather Honey Vodka, feels like we are coming home.
"We chose heather honey as one of our primary botanicals as we are inspired by Blackford's local landscape and ancestral heritage.
"Honey has history here which predates even the Scots' arrival, dating back to Pictish times.
"That ancient inspiration used in a modern context was really important for us when looking for unique botanicals."
In March 2018, Blackford Craft Distillery was selected to participate in Opportunity North East (One) and Aberdeenshire Council's food and drink Business Growth Programme (BGP), designed specifically to accelerate growth within the region's burgeoning food and drink sector.
Mr Sime added: "Our experience in the business growth programme has provided us with the tools to approach larger retailers, analyse gaps in the market and generate ideas for future market trends.
"As a result, later this year, we plan to launch a fruit infused gin and take on our third full-time member of staff, with the aim of being stocked in a high-end specialist retailer in every major UK city this time next year."