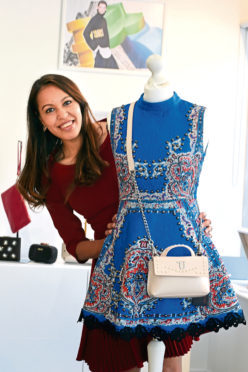 A former oil and gas HR adviser has teamed up with an Aberdeen business to launch her own pop-up shop hiring out designer dresses.
After graduating from Robert Gordon University Vishwavara Archer worked at firms including Expro and DNV before giving up the corporate 9-5 to have her two children, four-year-old Reneeka and two-year-old Aaryav.
Now the 38-year-old is ready to get back to work and has turned her love of fashion into a thriving new business.
After teaming up with Serena Venegoni, who owns Stellar on Chapel Street, the pair hope the new venture will change the way people shop and encourage more through the door.
Mrs Archer said: "I have been working on the project for about two years now. I have always had a love of fashion and dresses, who doesn't?
"But I came across this idea, which is only being used by about five or six others UK wide, and decided to try it out in Aberdeen.
"The way people are shopping is changing. Fewer people actually care about owning things these days, you just have to look at what Netflix and Amazon are doing to see that.
"So this way people can afford to wear beautiful designer dresses to their special events for a fraction of the cost and they can wear a different dress to every event."