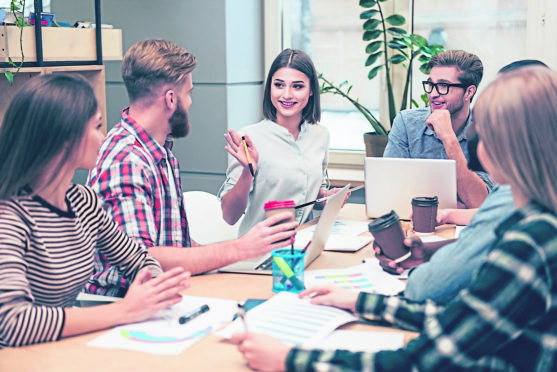 It's a situation that will be familiar to any entrepreneur – you wake up in the middle of the night with a great idea to start or grow your business. You scramble around for a pen and a scrap of paper to scribble down your idea and then you sink back into sleep again, with a satisfied smile on your face.
Then you wake up again the next morning and realise you've got to put your idea into action. How can you turn your brainwave into a viable business?
Luckily, a host of services are available to help entrepreneurs launch or grow their businesses. The following are just a selection of the organisations and companies that are on-hand in the North to help turn that spark of inspiration into the raging fire of enterprise.
Start-ups
Business Gateway
Ten years on from Scotland's enterprise agencies being reorganised, there's sometimes still confusion over which one does what. Business Gateway provides free business support services to existing businesses, start-ups and "pre-start-ups"; back in 2008, it switched from being run by Scottish Enterprise to being delivered by local councils, so there are specialised services for Aberdeen, Aberdeenshire, Highland, Moray, Orkney, Shetland and the Western Isles. Help on offer to entrepreneurs includes one-to-one expert advice, workshops and events – ranging from business start-up courses through to bookkeeping and online marketing – a network of more than 150 business advisors spread throughout the country and online resources and information.
www.bgateway.com
Start Up Loan Company
Launched in 2012, the Start Up Loans Company offers entrepreneurs up to £25,000 to repay over one to five years at a fixed rate of interest of 6% per year. In Scotland, the scheme is delivered by five partners: DSL Business Finance, the Prince's Trust, Transmit Start-Ups, Virgin StartUp and X-Forces. The company doesn't just offer cash though – it also provides support with business plans and cashflow forecasts, 12 months of free mentoring, and a range of templates and start-up guides. Companies that have used the loans include Bin Bath, a commercial and residential bin cleaning service covering Aberdeen and Aberdeenshire, and Skye Luxury Tours.
www.startuploans.co.uk
Elevator
As well as delivering Business Gateway services, Elevator operates seven accelerator programmes for a wide variety of entrepreneurs, from those already running businesses through to students, while it also manages a range of office space in 21 business centres. Operated as a social enterprise, Elevator – or the Enterprise North East Trust, to give it its posh title – has been running accelerator programmes at the centre for entrepreneurship in Bridge of Don since 2014. It expanded into Dundee last year and into the "Famous Grouse Idea Centre" in Perth back in February.
www.elevatoruk.com
Converge Challenge
Not simply a company creation competition but also an entrepreneurship development programme, Converge Challenge is open to graduates, students and staff from Scotland's universities and higher education institutes. Its prize fund – which includes a mixture of cash and in-kind advice from experts – is worth £160,000 each year. Between 2011 and 2016, 78 companies were formed through the competition, with 78% of them still running three years later. Together, they secured more than £62 million of funding. As well as the main Converge Challenge, the competition also includes "kickstarter" and social enterprise categories.
www.convergechallenge.com
The Oil & Gas Technology Centre
The Oil & Gas Technology Centre runs TechX, a technology accelerator and business incubator for start-ups and small and medium-sized enterprises (SMEs). Its "market entry" programme offers up to £500,000 of co-funding for technology projects, while its "pioneers" programme – for which BP Ventures is a partner – offers up to £100,000 for start-ups with technology ideas. The money comes in the form of a grant, so TechX doesn't take an equity stake, nor does it require payback, while the inventor retains the intellectual property. Although entry for the first round of pioneers has closed, registers of interest are being accepted for the second cohort.
www.theogtc.com/techx-accelerating-innovation/
Scale-ups
Highlands & Islands Enterprise
Tracing its origins back to the founding of the Highlands & Islands Development Board in 1965, Highlands & Islands Enterprise (HIE) not only has an economic development role, but is also involved in developing communities too. Along with its sister organisation in the south, Scottish Enterprise, HIE helps high-growth companies to expand. The two enterprise agencies also have an overseas arm, Scottish Development International (SDI), which helps businesses to export their goods and services, and also attracts inward investors. HIE's services cover a broad range of topics from funding through to graduate and student placements, manufacturing, and research and development.
www.hie.co.uk
Business Growth Fund
Launched in 2011 as an independent investor by five British banks – Barclays, HSBC, Lloyds, Royal Bank of Scotland and Standard Chartered – the Business Growth Fund (BGF) has £2.5 billion to pump into companies that need patient growth capital. It typically invests between £2m and £10m in return for a minority equity stake, and now also provides venture capital and invests in listed companies too. Its Aberdeen office has been particularly active – and not just in the oil and gas sector either, supporting businesses including catering group Entier and waste management company Keenan Recycling. As well as cash, BGF also offers expertise through its "talent network".
www.bgf.co.uk
Interface
When entrepreneurs need access to specific expertise to grow their businesses then they often turn to Interface, which acts as a matchmaking service for companies that need help from academics – and sometimes clued-up students – at colleges, research institutions and universities. Since it was launched in 2005, Interface has introduced around 2,800 businesses to academic partners, with some 1,700 collaborative projects being formed. The companies supported through the service have added more than £64m of gross value to the economy each year through their new services, processes, products or efficiency savings.
www.interface-online.org.uk
Entrepreneurial Scotland
Created through the merger of the Entrepreneurial Exchange and the Saltire Foundation in 2015, Entrepreneurial Scotland is a membership organisation that brings together both experienced and new entrepreneurs to network, share ideas and learn from each other. Two of its biggest events each year are its conference at The Gleneagles Hotel in the spring and its annual awards ceremony in November – both of which are essential dates in many entrepreneurs' diaries. Its "saltire programmes" include sending students abroad as interns, a six-month fellowship that develops leaders, and an alumni network to share useful experiences.
www.entrepreneurialscotland.com
ONE CodeBase
Perhaps the newest player on the entrepreneurial support scene is "ONE Codebase", a joint venture between Opportunity North East (ONE) and Codebase. It may have been founded in Edinburgh by brothers Jamie and Stephen Coleman, but Codebase is poised to have a significant impact when it opens a site in Aberdeen this year. Its Edinburgh base – in the highly convenient but rather ugly former tax offices at Argyle House, in the shadow of the castle – is already the UK's largest technology scale-up incubator centre and has ambitions to be the biggest in Europe. Interestingly, it's grown through private equity, not public funding. Watch this space because ONE Codebase could make a huge difference to Aberdeen.
www.thisiscodebase.com/aberdeen/
A host of services are available to help entrepreneurs launch or grow their businesses