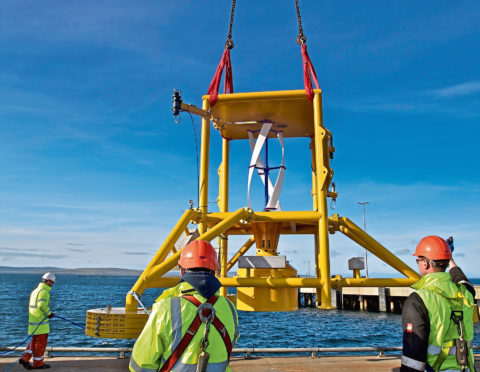 The organisation driving research and development (R&D) in the UK subsea sector is today setting out ambitions to unlock new opportunities in the "blue" economy.
In its latest report, Wave And Tidal Transformational Opportunities From The Subsea Sector, the National Subsea Research Initiative (NSRI) says its plans can help to keep the UK – and in particular Scotland – at the fore of wave and tidal technology development.
Its recommendations include setting up a new taskforce, supported by industry and government, to drive forward technology development, knowledge sharing and "stewardship".
The report also says other industries – including oil and gas "with its long history of working in harsh offshore environments, knowledge of asset management, subsea engineering and most recently ongoing hard cost reduction" – can help make wave and tidal energy cheaper.
Energy Minister Paul Wheelhouse has already backed the report, saying it "further highlights the enormous potential of our wave and tidal energy industries".
He added: "With our supportive policy environment, skilled supply chain and expertise in energy innovation, Scotland is the natural home for marine energy development and well-placed to benefit from the enormous global market for wave and tidal energy."
He added: "The Scottish Government continues to support the research, development, innovation and demonstration that will maintain Scotland's competitive advantage."
NSRI research and market acceleration director Tony Laing said: "Like most emerging sectors the wave and tidal industries need to identify ways to reduce costs and improve efficiency.
"Our subsea technology industry can play a very important part in that, leveraging value of knowledge transfer across the whole blue economy.
"Our latest report allowed us to really deep-dive into the needs of the sector and…effectively outlines what must be done to ensure the UK maintains its world-leading position."