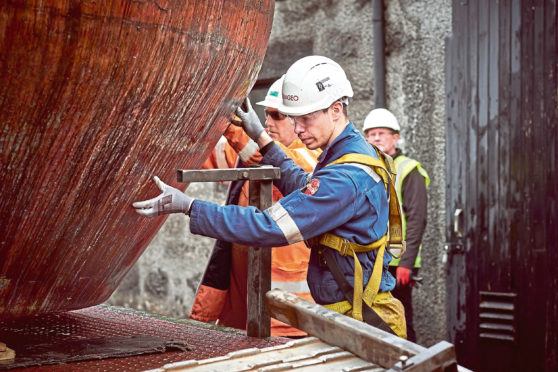 Copper pot stills that have not been used since Brora Distillery shut in 1983 have started a journey which will lead to them making single malt whisky again.
Drink giant Diageo is bringing the site back into production after more than 35 years.
The distillery's two copper stills were carefully removed before being transported 200 miles to Diageo Abercrombie coppersmiths in Alloa.
They will be meticulously refurbished using skills employed at the Alloa site since 1790.
Both stills have been surveyed using ultrasonic technology showing they are in good condition but in need of some work to prepare them to return to full-time distillation.
Diageo Abercrombie's team will refurbish them by hand and prepare them to once again produce Brora Distillery's Scotch.
Senior chargehand coppersmith Jim McEwan, who oversaw the moving of the stills, said: "Abercrombie coppersmiths last worked on these very same stills in the early 1980s before the distillery closed its doors, so it's a great privilege for us to work on them now and to get them ready to produce spirit again.
"They are beautiful stills and actually in really good condition, but after 35 years of rest they do need a bit of loving care to get them ready to distill again.
"It will be a real pleasure to work on these stills."Brira Dia
Copper stills are a crucial part of whisky production, with the size and shape a factor in the character of spirit produced.
Brora Distillery project implementation manager Stewart Bowman said: "This is another important milestone in our journey to bring the distillery back to life.
"Work is now well under way to meticulously restore the distillery buildings back to their former glory, and it is quite an emotional moment to see the stills beginning their journey back to full-time spirit production."
Under plans approved by Highland Council last month, work has begun to completely dismantle the distillery's stillhouse, which dates back to 1819.
It will then be meticulously rebuilt, stone- by-stone, so that it retains its original character but is structurally sound and capable of coming back into production as a working distillery.
The restoration of Brora Distillery is part of a £35 million investment that will also see the Port Ellen Distillery on Islay brought back into production.
Diageo is spending more than £185m on Scotch whisky tourism.
As well as the Brora and Port Ellen revivals, the company is investing £150m to transform its existing 12 distillery visitor centres across Scotland, and open a global Johnnie Walker brand attraction in Edinburgh.
Originally known as Clynelish Distillery, Brora started whisky production in 1819 with the backing of the Marquess of Stafford.
In the late 1960s it was decided to expand capacity by building a new distillery, with the old one eventually being used to make heavily peated whisky for blending.
The site was officially renamed Brora Distillery in 1975.