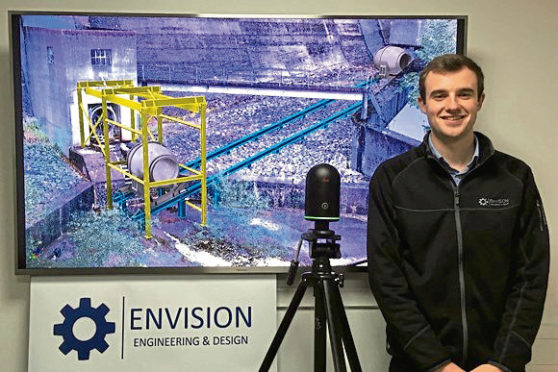 A Caithness engineering and design company has created new jobs and moved into larger premises.
Thurso-based Envision Engineering & Design's team provides product and engineering design services to clients in industrial sectors from nuclear, oil and gas, hydro and renewables.
With an increasing number of clients requiring the company's services, the team felt the time was right to move to a larger building.
Highlands and Islands Enterprise (HIE) supported Envision with a £13,000 grant to set up at the Cottage on Davidsons Lane.
The company bought the premises after it was previously owned by Pentland Housing and was empty for many years.
Since buying new 3D laser scanning equipment with support from HIE, the business has won many contracts from the energy industry and continues to increase its turnover.
Twenty-four year old engineering graduate, Gaius Bews was hired to help further grow its services.
Mr Bews was recruited following a year-long appointment at Envision through the ScotGrad graduate placement programme, supported and part-funded by HIE.
During his placement, Gaius was tasked with researching the use of 3D laser scanning technology to help reach new customers.
The equipment helps to carry out time-saving accurate site surveys to produce new designs for plant and equipment.
Company director Stuart Anderson, said: "Our new premises represents a major milestone as we further expand our team.
"The additional space in the new building will allow us to continue to grow and recruit further over the coming years.
"We were delighted to take Gaius on following his placement and is a most welcome addition to the team at Envision."