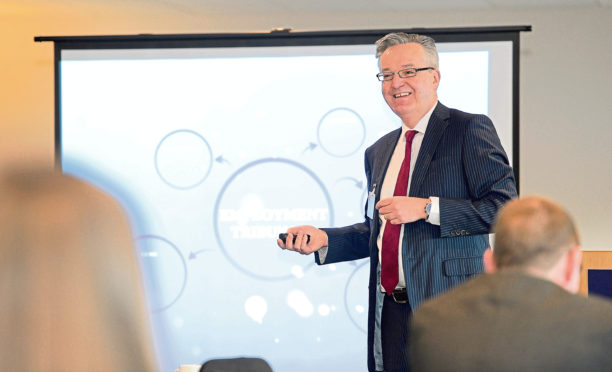 Employment tribunals are "back in a big way", one of the Highlands' leading employment lawyers told a gathering of businesspeople yesterday.
Kirk Tudhope said there had been a leap in the number of cases brought against employers since the UK Government scrapped fees for bringing them.
Mr Tudhope, a partner with law firm Ledingham Chalmers in Inverness, was speaking during a business breakfast organised by the Press and Journal and The Leader business magazine, held at Ross County Football Club's Global Energy Stadium, in Dingwall.
The government introduced fees of up to £1,200 in 2013, which it said would mean fewer malicious and weak cases.
But fees were scrapped in July 2017 after the Supreme Court ruled their introduction was unlawful and unconstitutional.
Mr Tudhope said: "Employment tribunals are back in a big way. They had gone away for a while after the government introduced the fees, which had a disincentive effect."
Research showed numbers plummeted to about 4,300 per quarter after the introduction of fees, from around 13,500.
The latest available figures showed the quarterly total had risen to 9,252 between January and March last year, Mr Tudhope said, adding: "I would imagine the next quarters are going to be higher."
He said the most common cases taken to tribunal were claims of unfair dismissal and the average settlement for these was £15,000.
Also prevalent were claims of unlawful discrimination, on grounds of race, sex, age, sexual orientation and, in particular, disability, he said.
The average award made by tribunals to employees claiming discrimination on grounds of disability is £30,000.
Mr Tudhope told the gathering he did not expect that Brexit would result in employment law "changing dramatically".
More than 40 people attended yesterday's business breakfast, which was chaired by the P&J's commercial manager for the Highlands and islands, Duncan Chisholm.