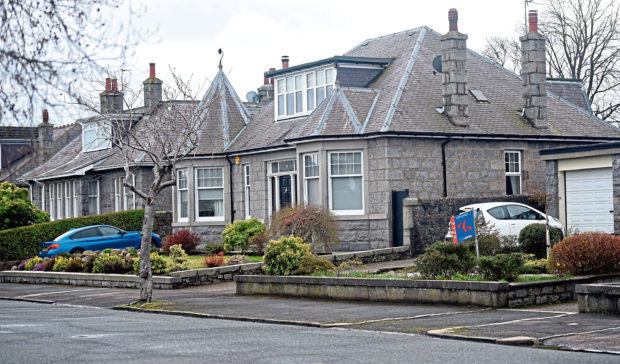 House sales in Aberdeen and Aberdeenshire are soaring well ahead of the Scottish average, as the region's lifeblood oil industry continues its revival.
One expert at Aberdein Considine said the renaissance in the north-east property-market is being led by higher-end homes.
For example, the firm's most expensive home on its books – priced at offers over £950,000 – found a buyer last month after just two weeks.
Latest data from Registers of Scotland (RoS) – the official keeper of property records – shows 1,040 north-east properties changed hands in January and February. This was up 22% on the 855 sales recorded during the same period last year.
Sales across Scotland as a whole rose by just 6% in comparison.
The overall value of transactions in Aberdeen and Aberdeenshire also jumped by 21% – from £170.5 million last January and February to more than £205.7m this year.
Average property prices, at £198,452, remain fairly static, although the rate of decline has now slowed to just 0.3% year-on-year.
Aberdein Considine – which sells one in four north-east properties and is the area's biggest estate agent – says a healthier local market and milder weather lay behind the sudden upturn.
Senior property partner Bob Fraser said: "Towards the end of February last year, Scotland was hit by the Beast from the East weather front, which caused a significant slowdown in viewings and property transactions.
"Therefore, part of this rise can be attributed to the warmer winter we've had.
"However, simply benchmarking the north-east's 22% increase in sales versus Scotland's 6% rise shows that activity has increased in Aberdeen and Aberdeenshire.
"It is still too early to call how the year is going to go, but there is certainly cause here for cautious optimism."
The latest market data from RoS shows sales rose by 29% in Aberdeen city and by 15% in the wider Aberdeenshire region.
Mr Fraser added: "The region's property market has gone through a change – but the outcome is that living in Aberdeen and Aberdeenshire has become much more affordable, which is great for younger people who in particular should be taking advantage of the current market conditions.
"However, as with previous downturns, the renaissance is being led by the higher-end properties, an area of the market where we have seen considerable activity so far in 2019."
The priciest house on the market with Aberdein Considine, a five-bedroom property near Banchory, recently went under offer after just two weeks on the market at offers over £950,000.
The firm has also achieved high six-figure price sales in Aberdeen's King's Gate, Westholme Avenue and Springfield Avenue in recent months.
Mr Fraser believes a gradual return of confidence among those employed in the oil and gas sector is the key factor.
And the outlook for the North Sea industry is much more positive than a few years ago, with a steady stream of positive news stories in recent months.
Mr Fraser added: "The Oil and Gas Authority said in its most recent report that the cost-cutting which has seen thousands of jobs lost in the sector 'may now be over' – that's a significant statement.
"It has also been reported that North Sea operators generated a £10 billion cash surplus in 2018 – the highest figure achieved since 2010, when the industry was enjoying a boom."
The turnaround comes as an estimated £8.4bn-worth of capital investment in the wider north-east economy comes to fruition.
Away from oil and gas, Aberdeen and Grampian Chamber of Commerce says £8.4bn of public and private investment is due to be delivered to benefit the region before 2030, including improved transport links and facilities, bars and restaurants, green spaces, offices, homes and schools plus cultural and leisure venues.
Projects totalling £1.7bn have been completed in the past year alone, including the Aberdeen bypass, Marischal Square and the Silver Fin building in the city centre.
As that infrastructure continues to be delivered, Aberdeen Solicitors Property Centre has also been more upbeat.
Chairman John MacRae said while the local homes market was still facing "substantial challenges", he was seeing modest signs things were slowly improving or at least not continuing to deteriorate.
"There was some cause for optimism towards the end of last year in that sales were increasing and there was a sense of realism in the market both on the selling side and the buying side," he added.
"Properties were being priced to sell and buyers seemed to be appreciating that there might not be a better time to make a move, given the low prices and the current low interest rates."