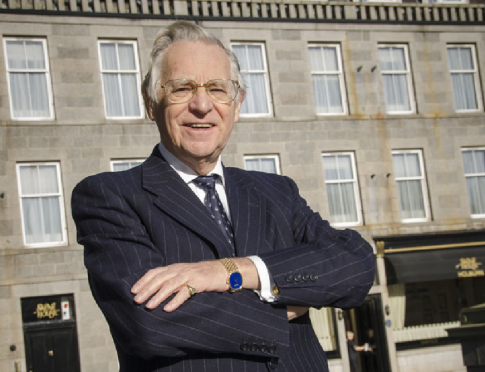 A prominent Aberdeen businessman has revealed his hotels have been hammered by a £424,000 rates increase as he warned the north-east faces an "economic tsunami".
Charles Skene, founder of the Skene Group, said the 2017 revaluation meant his business had been hit by a "completely unaffordable" rise of 150%.
Addressing the Scottish Conservative conference in Aberdeen, Mr Skene condemned the "punitive" business rates imposed on the area as Tory politicians urged the Scottish Government to give the north-east "a fair deal".
Mr Skene claimed other businesses had also been hit by six and seven-figure increases at a time when firms are under threat.
According to Mr Skene, one Aberdeenshire business had to cope with rates soaring from £375,000 to £1.4 million – an increase of 273%.
"The recent 2017 business rates revaluation has increased rates burden at a time when the survival of many businesses in the north-east is being questioned," Mr Skene said.
"The rates on our three Skene House hotels in Aberdeen increased from £280,000 to £704,000, an increase of 150% – completely unaffordable."
Mr Skene also gave the "extreme example" of an unnamed builder who demolished an office block rather than pay the rates on an empty building.
He also claimed an Aberdeen hotelier had suffered increases on their main property, up from £250,000 to £400,000, a rise of 60%.
The hotelier had also suffered a 125% increase from £95,000 to £214,000 on a block of serviced apartments, he said.
And a smaller block of serviced apartments run by the same businessman had gone from £25,000 to £114,000, a 356% increase.
Another local businessman with interests elsewhere in the country had his rates reduced in Livingston by 6% and by 1.3% in Dundee. In Aberdeen, however, his bill rose by 36.6%.
Mr Skene was speaking at a session organised by the Tory "Fair Deal for the North East" campaign, which is highlighting high business rates, council tax, teacher and GP shortages as well as cuts to local authority funding.
Gordon MP Colin Clark said:  "Our councils are among the lowest funded in the country, losing a combined £40m this year. Our health board receives the worst settlement per head of population this year and our police service is overstretched and under-resourced.
"Under the SNP, the number of teachers in our classrooms has dropped by 500, while one in ten GP practices have shut their doors."
Tory claims were dismissed by Finance Secretary Derek Mackay's spokesman, who said: "The SNP Government is offering businesses the best package of rate reliefs anywhere in the UK, while council tax across Scotland remains on average well below that in Tory-run England.
"We have a record number of GPs working in Scotland, while teacher numbers are at their highest since 2010.
"That is the reality of the SNP delivering for people, while the Tories threaten business, families and public services with a disastrous Brexit that Scotland didn't vote for."