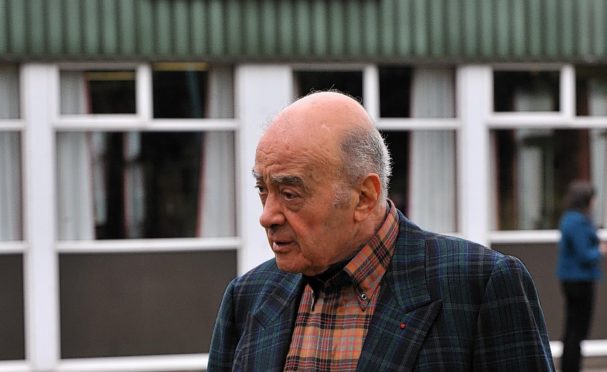 Scotland's richest people live in the north and north-east, the Sunday Times Rich List will reveal this weekend.
A sneak preview of the list, given to this newspaper, shows that Scotland's two wealthiest – spirits magnate Glenn Gordon and Sir Ian Wood and their families – are resident in Moray and Aberdeen.
In third place sits Highland resident Mohamed Al-Fayed, famed for his connections to London's Harrods department store.
The Gordons continue to top the Scottish rankings, following another year of rising profits at their Banffshire–based Glenfiddich distillery.
The enterprise is now run by the fifth generation of the 1887 founder, William Grant, with Glenn Gordon, 61, overseeing a £310m increase in the family's wealth in the last year.
Sir Ian Wood rises up a rank in the Scottish top 20 to take second place this year thanks to a £51m increase in wealth.
He retains a 0.9% stake, worth £33.7million in Wood, which he founded and ran for 50 years before retiring in 2012.
Beyond the boardroom, he continues as chancellor of Robert Gordon University, for the 15th year, and the family's foundation also paid out £40million to charitable projects in the north-east, other parts of the UK and Africa.
Ranked sixth, siblings Trond Mohn and Marit Mohn Westlake, of Moray, donated £25m to Imperial College London last year, funding research into childhood diseases.
After selling their family company Framo, a manufacturer of cargo pumps, in 2014 for £1.1bn, the pair became renowned for their benevolent donations, and are Scotland's biggest risers this year thanks to an increase in wealth of £602m.
There are 11 billionaires with a connection to Scotland, with a combined fortune of £17.245bn, up by £1.038bn in the last year.
Robert Watts, the compiler of The Sunday Times Rich List, said: "Many rich listers are this year nursing big losses due to the uncertainty over Brexit, turbulence on the stock market and the enormous change sweeping through our high streets.
"But more than half of our Scottish rich list have seen their fortunes rise over the past 12 months – that's a higher proportion than other parts of the UK.
"This may cheer those pushing for an independent Scotland, who will want to show that there is plenty more to the Scottish economy than North Sea oil."
THE LIST
Despite the downturn in the dominant oil and gas industry, the list shows there is still plenty of money in the Granite City.
Oil and fishing magnate Sir Ian Wood and his family sit unmoved in the top spot for the city with a fortune of £1.763bn – up more than £50m on last year.
Perhaps surprisingly for the oil capital of Europe, the second spot is taking by pet food millionaires Tony and Christina Quinn who are valued at £330m, up £60m since 2018.
In Moray, spirits boss Glen Gordon and his family top the table with £2.882bn with a massive rise of £310m since last year.
Trond Mohn and Marit Mohn Westlake and family are second for Moray on £1.602bn- up £602m.
Clothing and drinks entrepreneurs The Urquhart family are new to the list for Moray, ranking seventh on £125m.
Unsurprisingly, 90-year-old Egyptian retail boss Mohamed Al-Fayed remains in top spot in the Highlands and Islands with a massive fortune of £1.7billion.
Next is commodities and fashion millionaire Ian Taylor, who has risen from fourth to second this year after a massive increase of more than half a billion pounds to make him now worth £750m.