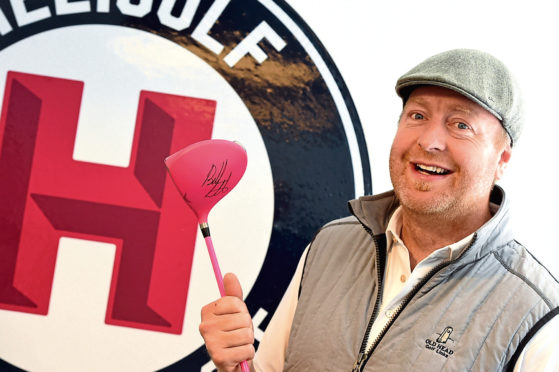 Golf tourism in the north-east is on an upward curve.
The economic value of the sector to courses and associated businesses in the area continues to soar – and stands to benefit from the keenly-awaited opening of Aberdeen South Harbour next summer.
The £350million port development will be able to handle big cruise ships arriving with thousands of passengers, many of them eager to try out the local golf courses.
The north-east is currently home to 55 links and parkland courses, including household names such as Royal Aberdeen and Trump International.
The area features two of the oldest golf courses in the world – Royal Aberdeen, founded in 1780, and Fraserburgh, founded in 1777 – alongside numerous other delightful courses that visitors may not be so familiar with.
Hector Emslie, golf and tourism development manager at VisitAberdeenshire, said: "The future certainly looks good for golf tourism in the area, and there is still further room for considerable expansion."
The economic value of golf tourism in Aberdeen and Aberdeenshire is expected to reach around £28.2million this year and then break through the £30million mark by 2020.
This has meant a welcome boost on the employment front locally – a rise from around 350 direct jobs in 2015 to a current total of more than 440.
It is thought that the north-east gets more than 100,000 golf visitors every year – most of them from other parts of the UK, but other important markets include Scandinavia, Germany, France and the United States.
The popularity of the area with golfing tourists could not have come at a better time for local golf clubs, as memberships have been falling.
VisitAberdeenshire has engaged with businesses and visitor attractions over the last few years to help them prepare for the expected influx of tourists disembarking at Aberdeen South Harbour. It has assisted more than 200 enterprises to become cruise ready.
But Hector said the full benefit of cruise ship visitors will not be felt overnight by the local golf sector.
"The future potential is huge, but the market will take time to develop."
Hector and his colleagues are continually exploring a wide variety of other avenues to attract more golfing tourists to the north-east.
He said: "By VisitAberdeenshire attending a variety of trade shows and events, the number of domestic and international golf tour operators now selling packages to the region has increased."
Hector is also pleased to report that the number of accommodation providers collaborating directly with local golf courses and offering customers the option of buying combined packages has also shown a large rise.
To cope with recent demand, four new local golf tour operator start-ups are providing customers with a greater range of options and an easy route to buy packages. Hector added that tournaments like the inaugural Aberdeen Golf Links Pro-Am, held in May, help spread the word about what the region has to offer the golfing visitor.
He said: "Other initiatives like the Royal Deeside Golf Classic in July have been on the tourist map for years."
Hector said the achievements of many famous local golfers throughout the decades has also had a positive impact. The long list includes George Duncan, who won the Open in 1920, and Paul Lawrie, who achieved the feat in 1999. Other north-east players highlighted include Richie Ramsay, Sam Locke, David Law, Steven Young, Greig Hutcheon, Michelle Thomson and Chris Robb.
"These golfers have all acted as wonderful ambassadors, not only for the game of golf but for Scotland and Aberdeenshire in particular," added Hector.
So what makes the north-east so special when it comes to attracting visiting golfers?
Hector summed it up: "Our existing top links venues such as Royal Aberdeen, Murcar, Cruden Bay, Peterhead, Fraserburgh and Trump International continue to act as a draw for both domestic and international visitors.
"Tourists get the chance to play iconic, historic courses created by world-famous designers, but we have other delightful courses which are actually relatively undiscovered by visitors.
"In addition there is an excellent choice of value accommodation. We have also had vast improvements in road and airline connectivity.
"When you add in the area's numerous other attractions – the landscape, the wildlife, the whisky industry and castles – we think we have an unrivalled offering for visiting golfers."
Bonnie wee ideas that grew handsomely big
Being a caddie led Dave Harris to take the plunge and start his own Aberdeen business organising luxury golf trips in Scotland and Ireland.
The entrepreneur set up Bonnie Wee Golf 17 years ago when he was aged just 23.
Dave said: "It was caddying for Americans that inspired me to start a golf tour business.
"The venture has exceeded my expectations by a long shot. We now have an incredible customer base and we receive a great number of repeat business along with referrals.
"We had 200 happy clients last year and this has jumped to 227 booked so far this year."
The businessman said Bonnie Wee Golf tends to focus on trips to Royal Aberdeen, Trump International and Cruden Bay, but other destinations include Murcar, Fraserburgh, Cullen and St Andrews Old.
Most clients are American, but efforts are being made to attract visitors from new markets such as China and Germany.
As regards opportunities following next year's opening of Aberdeen South Harbour, Bonnie Wee Golf is currently in discussions with VisitAberdeenshire to provide a golf day-out service for cruise ship passengers.
"We are very keen to offer our heligolf service should the ship have a helipad. That is arguably the best golfing experience ever," said Dave.
He added that, earlier this year, Bonnie Wee Golf organised the inaugural Aberdeen Golf Links Pro-Am, which was a great success.
"This will be an annual Tartan Tour event and will be run by the PGA of Scotland. We had participants from England, Norway, Dubai, US and Thailand. We had 152 take part this year and are expecting over 300 next year. The Aberdeen Golf Links Pro-Am will help us to reach out to other markets."
Bonnie Wee Golf currently has a team of four looking after clients' needs, as well as using additional drivers in Scotland and Ireland.
Dave has an ambitious vision for his golfing business.
"The product here is as good as any other golfing destination in Scotland. Five years from now, I see Bonnie Wee Golf having up to twice as many staff members, while annual client numbers could be well over 350 by the 2024 season. I also expect we will also have developed strong relations with travel agents, golf professionals and customers in China and Germany."
Another local company successfully catering to the needs of visiting golfers is Granite City Tour Company.
Director Andy Christie said: "We launched the business back in June 2018 and have really hit the ground running.
"We specialise in bespoke VIP tours, experiences, golf days and private transfers.
"We are definitely seeing an increase in the number of tourists visiting the north-east and the best thing is that they're not just passing by but are staying for at least a couple of days.
"The most popular requests we receive are for golf, whisky distilleries and tasting, as well as castle visits.
"Trump International is the top golf request from our customers, but we've also taken a lot of them to Royal Aberdeen, Murcar, Stonehaven and further afield to Royal Dornoch, Gleneagles as well the Old Course at St Andrews."
Granite City Tour Company has a varied customer base.
Andy explained: "We've had one lady visit from the Caribbean island of Aruba and groups of ladies and gents from New York, Norway and Saudi Arabia.
"We've also had the pleasure of transporting a group of CEOs who had flown in from Switzerland on their private jet for a game of golf and a dram of whisky before flying back out on the same day. They must have enjoyed the area because we have welcomed them back on several occasions since."
Murcar at Bridge of Don is among the local courses popular with golfers from both home and abroad.
Club secretary Carol O'Neill said: "Over the years Murcar Links has seen an increase in visitor numbers.
"With golf membership on the decrease in Scotland, golf tourism and visitors are more important to clubs in Scotland, the Aberdeen area and to Murcar.
"The majority of our visitors travel from within the UK, but we have seen a 20% increase in numbers this year compared to last from every continent."