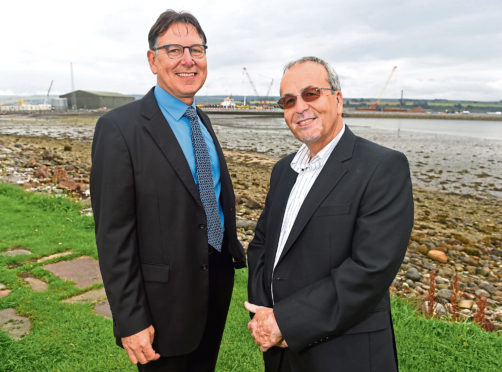 The north needs plants to manufacture equipment for the offshore wind industry to keep the area at the forefront of the sector's development, Global Energy Group (Geg) chairman Roy MacGregor has said.
He warned that, without them, the region's main ports, which have won contracts supporting construction of wind farms in nearby waters, could lose out on work for projects in other parts of Scotland and the UK.
The businessman's efforts to attract a manufacturing plant to his company's Nigg Energy Park site are being supported by the neighbouring Port of Cromarty Firth (PCF).
But he voiced concern that, with strong competition from other Scottish areas, the Highlands risks becoming "marginalised" in attracting support for industry and needs to "shout louder" to make its case.
Nigg and the PCF's Invergordon facilities were used as staging ports for construction of the Beatrice offshore wind farm off Caithness and have won lucrative contracts for the new Moray East offshore wind farm.
Mr MacGregor said: "The staging port bit is not enough. It's OK for what's on our doorstep, but the minute we go to renewable projects outwith our area, we're too far away from the action. We have to manufacture.
"My case is that the renewable industry built a plant in Hull and there has to be another one built in the UK – I want that to be in Nigg.
"The Highlands is not actually shouting loud enough economically.
"I'm making a case not just for my industry – it's for the Highlands. We need a stronger voice because we seem to be becoming marginalised."
PCF spokeswoman Joanne Allday said: "Port of Cromarty Firth wholeheartedly supports the plans to attract a renewable energy manufacturing facility to the region and we are working with Global Energy Group and others to try and ensure that this is achieved."