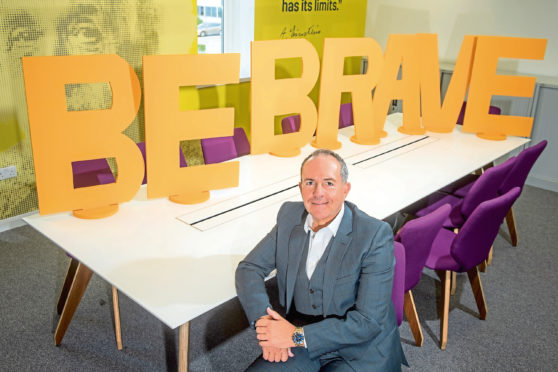 A new "entrepreneurial festival" to celebrate Scottish business start-up success will get under way in Aberdeen later this year.
Business Gateway (BG) has teamed up with Elevator – the Granite City-based social enterprise delivering BG services across much of the country – for the initiative, called BeBrave!
A string of festival events is planned across locations from Fraserburgh to Perth, with the first taking place at Pittodrie Stadium in Aberdeen on Thursday October 3.
BeBrave! is intended to be an entrepreneurial "hub" for new and existing businesses, or those curious about enterprise and starting up.
Those attending its events will have access to advice on how to start, grow and build their own business.
The line-up for Pittodrie includes an opening presentation from amputee mountaineer Jamie Andrew.
This will be followed by a leadership panel session featuring five "innovative trailblazers".
Workshops hosted by Google Digital Garage, Amazon and BG will give delegates the chance to learn invaluable business skills.
Elevator chief executive Gary McEwan said: "Scotland is an entrepreneurial nation, with a long and proud history of innovation.
"It is critical that we maintain this entrepreneurial spirit to attract more would-be entrepreneurs and, in turn, see positive change across our economy."
BG chief officer Hugh Lightbody said: "It is vital that entrepreneurs are supported to dream big, stay focused and find the determination and resilience they need to succeed."
Comment, Page 24