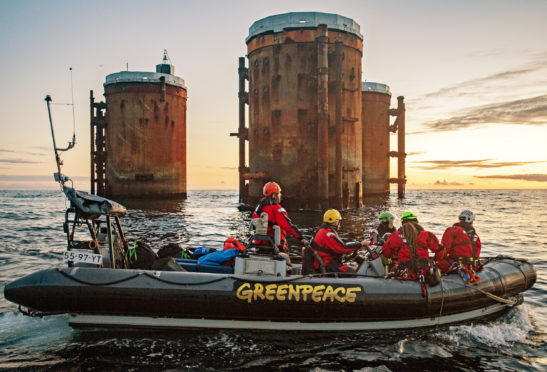 Greenpeace said last night that protestors would occupy two North Sea oil platforms for "as long as needed" to get their message across.
Activists from the Netherlands, Denmark and Germany climbed rigs on Shell's Brent field off Shetland yesterday, protesting decommissioning plans which it said would dump tonnes of "oil waste" into the sea.
Two protestors climbed the Brent Alpha platform, while another two ascended the legs of the Brent Bravo, brandishing signs and banners reading "Shell, clean up your mess".
Police Scotland said it was working with partners to ensure the matter is resolved safely.
Activists reached the field, 115 miles north-east of Shetland, via the Rainbow Warrior ship owned by Greenpeace International.
The protest comes ahead of special meeting of Ospar, an agreement between 15 governments to protect Europe's marine environment, which takes place in London on Friday.
Some countries have lodged objections to Shell's plans to leave the legs of three of the Brent platforms – Bravo, Charlie and Delta – in the sea, with concerns around the contents of concrete oil storage cells within them deteriorating.
Shell insists its plans are both safe and "environmentally sound", with any release of the cells' contents happening gradually over centuries.
A Shell spokesman said the safety of the protestors and workers is their "prime concern".
He added: "We can confirm that two protestors have boarded the Brent Alpha platform and one has climbed onto the Brent Bravo concrete legs.
"Their safety and that of our workers are our prime concern at this moment.
'Risk to people' if concrete structures removed on Shell's Brent field
"Our recommendations are the result of more than 300 scientific and technical studies.
"These were reviewed by an independent group of eminent scientists to ensure the research was sound and that all feasible decommissioning options were thoroughly  investigated.
"Our proposals were submitted only when we were convinced they were the best option: safe, environmentally sound, technically achievable and socially responsible."
Shell highlighted that very few fields have these concrete oil storage cells, arguing the decision would not set a lasting precedent.
Greenpeace has, however, described the plans as "outrageous", with there being 64 concrete cells across the three platforms.
Joris Thijssen, director of Greenpeace Netherlands, said: "The 11,000 tons of oil that is still stored in the foundation of the platforms will sooner or later end up in the sea.
"That is unacceptable.
"The North Sea is not a garbage dump. Shell has to clean up its mess.
"Greenpeace urges all Ospar governments to protect the sea and not to give in to the pressure of a major polluter."