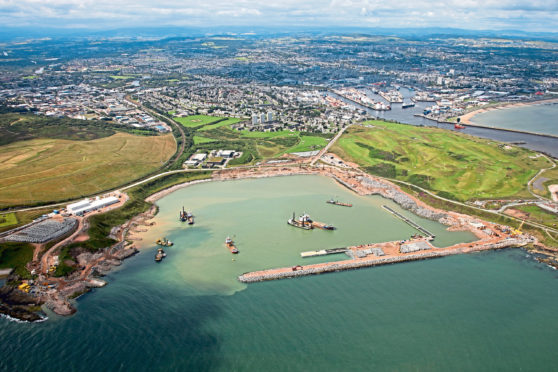 Aberdeen harbour expansion firm Dragados UK has more than doubled annual profits as it carries out work on the £350 million-plus project.
The Spanish-owned construction and infrastructure company is working to a revised timetable on the transformational development after technical challenges pushed the expected completion date out to 2021.
Accounts lodged at Companies House by Dragados UK show it made pre-tax profits of about £10.8m last year, up from around £4.4m in 2017, while turnover soared by nearly £67m to £102.9m.
Signing off the figures, managing director Javier Ramirez said they reflected a full first year of construction.
Work on the new south harbour is progressing well, he said, adding: "The insertion of 22 caissons has allowed the construction of the north, east and south quay to be started.
"Dredging, rock treatment and removal teams are continuing to work on site to create the necessary depth."
Mr Ramirez said the company would continue to bid for other large infrastructure projects as they go out to tender.
The accounts also revealed the value of the contract with Aberdeen Harbour Board (AHB) has increased by £2m due to "additional works required to complete the project".
Last month, AHB announced the new south harbour would be completed during 2021 and not next year as previously expected.
The slippage means larger cruise ships that were booked in for next year can no longer be accommodated.