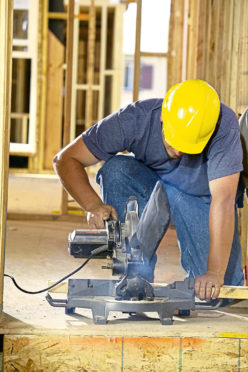 Four north and north-east firms have been named for Scotland Excel's £1.5 billion new-build residential construction initiative.
Aberdeenshire companies Chap Group (Aberdeen) and Bancon Construction, together with Elgin-based Springfield Properties and Highland firm MM Miller (Wick) have all been enlisted to help meet Scotland-wide demand for social housing.
They are among 19 construction companies appointed, including 13 small and medium-sized enterprises.
The initiative has been launched by Scotland Excel – the country's centre of procurement expertise for local government – with 11 funding local authorities, including Aberdeen City Council and Aberdeenshire Council.
It is hoped it will help to reduce the time it takes social landlords to engage a contractor to build new homes, including flats, houses and bungalows, as well as care homes and supported living accommodation.
Each of the firms appointed had to meet rigorous standards and agree to provide a range of community benefits, including creating job and training opportunities, paying the real living wage and partnering other businesses and social enterprises on projects where the value of work exceeds £1 million.
Scotland Excel convener Councillor John Shaw said: "Scotland's 32 local authority areas have set out plans which will see more than 40,000 new homes started across the country by 2024.
"Scotland Excel's new-build framework supports these plans and in particular, the delivery of much-needed social housing."
Aberdeenshire Provost Bill Howatson, a member of Scotland Excel's executive sub-committee, said: "I am pleased to see two Aberdeenshire companies among the suppliers (Chap and Bancon are based in Westhill and Banchory respectively), which offers the potential to create jobs and sub-contracting opportunities for local people and businesses."
Scotland Excel is said to have helped save councils more than £150m since the not-for-profit shared service was established in 2008.
Its services are designed to help councils meet the twin challenges of reducing budgets at a time of growing demand.
Collaborative procurement increases efficiency and makes sure as much money as possible is saved to protect front-line services.
Meanwhile, Westhill-based housebuilder Stewart Milne Homes said yesterday its technical director for central Scotland, Gary Milne, had been appointed to the board of Homes for Scotland (HfS).
Mr Milne will represent the north-east firm on the board, helping to support and influence the national trade body.
HfS aims to ensure Scots have access to the homes they need by shaping policy and challenging decision-makers on behalf of the industry.
Nicola Barclay, the group's chief executive, said: "We are delighted to welcome Gary to our board at what is a pivotal time for HFS and the sector in general.
"Having recently set out the direction and prioritisation of objectives for the organisation within our five-year strategy, we are now committed to delivering on these key aims.
"Gary's knowledge, insight and support, alongside that of his peers, will be hugely beneficial as we seek to unify all those with an interest in increasing housing supply."
Mr Milne said: "I'm looking forward to bringing a passion for design, progressive thinking and place-making to the HfS table."