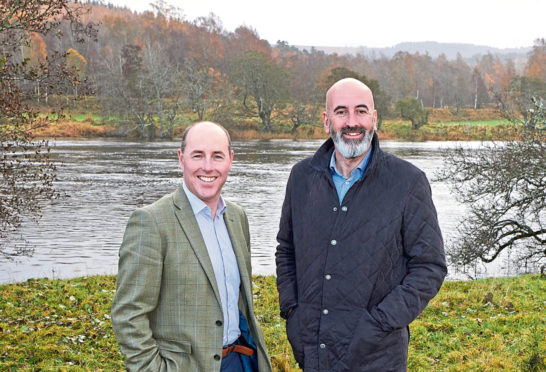 Punitive 25% US tariffs imposed on a number of traditional Scottish products are having a "marked impact" on Speyside, the boss of a Moray-based whisky specialist has warned.
Ewen Mackintosh, managing director of Gordon & MacPhail (G&M), said it felt like three of the area's important sectors were being "hit quite hard" by an unrelated trade dispute between America and the EU.
The US was allowed to impose the duty hike on £6.1 billion of goods it imports from the EU, including malt whisky, shortbread and cashmere, following a World Trade Organisation ruling at the start of last month.
The decision found the EU had failed to remove subsidies for European aircraft-maker Airbus, causing a loss in sales for US rival plane manufacturer Boeing.
Mr Mackintosh said it was "frustrating" traditional Speyside and Moray industries were being "dragged into" the row.
As G&M announced annual results showing strong increases in its profits and turnover, he said: "In the coming months we are going to have to work out how we are going to minimise the impact. It is unfortunate that this part of Scotland is feeling it."
Recently Jim Walker, joint managing director of Aberlour-based shortbread brand Walkers, said the Speyside village was facing a "disproportionate penalty" as a result of the US tariff hike.
Last night the concerns were echoed by another major Moray employer, cashmere specialist Johnstons of Elgin.
Johnstons' CEO Simon Cotton said: "Due to the introduction of the tariffs and uncertainty around their duration we are currently absorbing 25% tariff on sales of knitwear to the United States. Obviously, this is not something that we can continue indefinitely, and it is an additional strain on the business in a challenging market.
"We hope this situation will be resolved imminently for all sectors currently affected and, in particular, Scottish knitwear."
The figures released by distillers, drinks wholesalers and retailers Speymalt Whisky Distributors, which trades as G&M, showed pre-tax profits at the family-owned firm rose to £15.6 million in the 12 months to the end of February, from £12.9m the year before. The company's turnover rose 4% to £41m over the same period.
Mr Mackintosh said: "We're pleased to report another successful year and to be pushing ahead with our planned growth strategy."
G&M employed an average of 162 people in 2018-19 and said it planned further recruitment in sales and operations as the business grows.