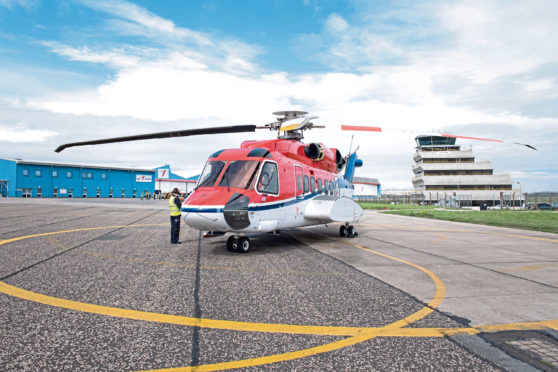 A North Sea helicopter operator has blamed "challenging market conditions" after posting its worst set of financial losses in more than a decade.
CHC Scotia reported pre-tax losses of £20.5 million for the year to April 30 2019, although bosses insist they have "demonstrated significant resilience in the current market".
Turnover was up by £3.8m at £125.6m amid growing confidence in the offshore industry as operators adjusted to life after the 2015 oil price crash.
Operating losses for 2018-19 came in at £19.4m, compared with a deficit of £21.9m previously.
Primarily based out of Howe Moss Drive in Dyce, Aberdeen, CHC Scotia is the North Sea business of US-headquartered CHC Group.
The latest figures represent the firm's worst set of results since 2007-08, when it racked up annual pre-tax losses of £20.9m, and a large drop on 2017-18's trading deficit of £4.6m.
A spokesman for CHC Scotia said: "Market conditions remain challenging.
"We continue to invest in our core activities and remain focused on improving efficiency and increasing market share. We continue to see contract wins and renewals across our region, as well as enhancements in efficiency."
He added: "The company is well-positioned to pursue major oil and gas opportunities.
"Recent major contract wins and retentions provide a solid platform for future growth."
The accounts also show CHC Scotia employed 319 people on average during the 12 months to last April, which was up from 302 the year before.
Its best-paid director earned remuneration totalling £502,000 in the latest period, up from £292,000 in the previous year. The business has been led by Mark Abbey, group regional director for Europe, the Middle East and Africa, since 2012.
Following the 2014 oil and gas industry downturn, helicopter operators globally were hit by a range of cost-cutting measures such as energy firms implementing longer offshore working patterns requiring fewer flights.