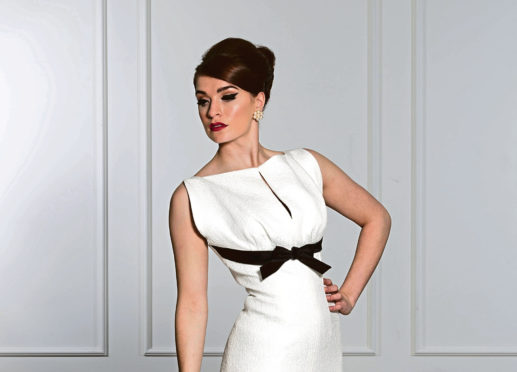 The businesswoman behind Aberdeen-based public relations (PR) firm Tricker Communications has turned to the golden age of Hollywood for inspiration for a new venture she launched late last year.
Beverley Tricker fulfilled a long-held ambition to return to making bespoke bridal gowns when she opened a pop-up shop, Tricker Bridal, in the Granite City at Christmas.
The accomplished seamstress – Santa brought her a toy sewing machine when she was seven –adores the elegant outfits worn by movie legends from the 1940s-60s, so it is fitting that these have inspired her handmade, bespoke wedding gowns.
Her range pays homage to the style of iconic actresses like Audrey Hepburn, Marilyn Monroe and Rita Hayworth.
Every gown takes around three to five months to make, with the classic designs available to view in the Victoria Street bridal salon until June.
Ms Tricker, who continues to head up Tricker Communications, said: "I've been sewing since I was seven years old, and during the 1990s made hundreds of wedding outfits.
"Creating a pop-up bridal salon, along with a capsule collection of stunning gowns, each one hand-made and inspired by a golden era of elegance and grace, has been hugely enjoyable."
Her Boxing Day opening was a deliberate busines ploy, with various studies indicating December 24 tops the list as best day to surprise a partner with a proposal, followed by Christmas Day and New Year's Day.
Ms Tricker, once a media and marketing boss at the former Aberdeen and Grampian Tourist Board, launched her PR business in 2001.