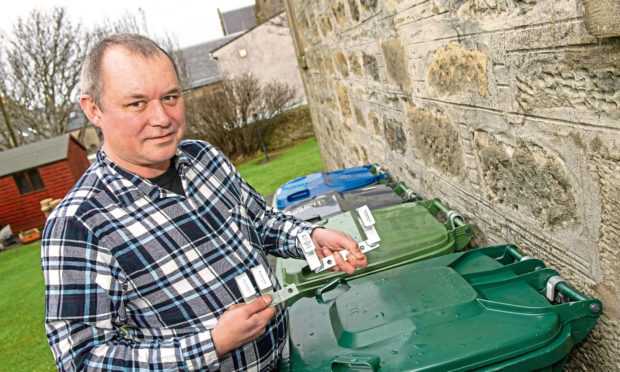 Each week, we ask small businesses key questions. Here we speak to Gordon Simpson, inventor of the Walrus Wheelie Bin Bracket, from Ollaberry, Shetland
How and why did you start in business?
A born and bred Shetlander, I was laid off at Sullom Voe when they cut back and my small-time jobs on the side and "homers" had to become my main income.
How did you get to where you are today?
I was making satellite dish brackets around the time Shetland Islands Council started introducing wheelie bins in Lerwick in 2010. I had spare steel and hit on the idea of making brackets to stop the bins blowing over.
My Walrus Wheelie Bin Bracket is made from mild steel as it's low cost and easy to work with, while hot-dip galvanising is the best finish for a long-life product.
I made an initial batch of 40 brackets but only sold about four – not great and the idea was shelved.
In 2017 the council gave two recycling bins to every Shetland household – around 20,000 in total. Some locals kicked up a storm, pointing out the windiest part of the UK was not the place for wheelie bins.
What a fantastic opportunity this was for me. I dusted down my brackets and they started selling locally but also via mail order across the UK, where there are about 30 million bins.
Today, I sell brackets to people from the north of Shetland to the third most southerly house in England, or so the customer told me, on Jersey. Wherever there's a wind there's a Walrus Wheelie Bin Bracket, or there should be.
Who helped you?
My friend, Alan Tait, a local businessman, helped kick-start Walrus, mentoring me through the pitfalls of dealing with suppliers, customers and hecklers.
Tait Electronics now handles the distribution to local shops in Shetland and Orkney, while I handle online sales through a website and Facebook page.
Setting up an online retail business is quite simple, but handling the legal and management sides of things is far from easy.
I joined the Federation of Small Businesses (FSB) and everything was there at my fingertips – business banking, insurance, help with tax and VAT, and so on. I recommend the FSB to anyone in business.
What has been your biggest mistake?
"If I build it, they will come" was a big assumption gone wrong. Marketing is a funny beast; no two businesses are the same and what works for one won't for another.
I've wasted money on all kinds of marketing, advertising and PR, always learning as I go.
The best adverts are on the Walrus Brackets themselves. I label them so passers-by can see what they are and where to get them.
One man phoned me while out walking his dog. He was standing beside a bin and ordered a bracket on the spot.
What is your greatest achievement?
Receiving compliments for identifying a problem, finding a solution and making and selling it on the open market.
If you were in power, what would you change?
A government-backed business kick-starter fund would be a great boost for budding entrepreneurs.
What do you still hope to achieve?
To take my product to Europe, but I'm holding off until the Brexit dust has settled. I'm sure I've seen wheelie bins in the background of some of the Scandi noir dramas, and they must have windy days too.
What do you do to relax?
A good movie and glass of wine. I make my own wine and love it on Budget day when the chancellor announces another 10p on a glass. I say "cheers but not mine".
What are you currently reading, listening to or glued to on the TV?
The Star Trek – The Next Generation spin-off sequel series Picard. I'm a consummate Trekkie, I still enjoy reruns of all the various Star Treks.
What do you waste your money on?
Wine. But the kits work out at only 70p a bottle, so I think I can live with that – and the wine.
How would your friends describe you?
Del Boy – "this time next year Rodney" – Trotter.
What would your enemies say about you?
I don't really care. Fame, infamy, they're both the same.
What do you drive and dream of driving?
Vehicles are a necessary evil in rural Shetland and I drive a Vauxhaull Combo van.
I'd love an all-electric version.