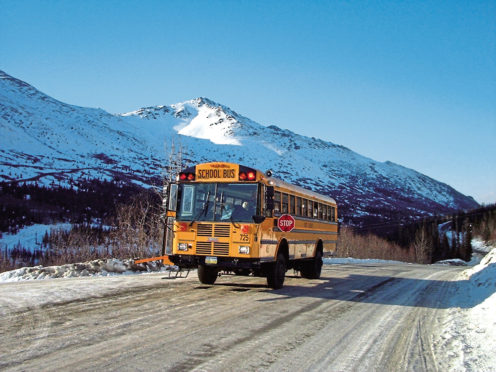 FirstGroup is edging closer to becoming a UK-only business after the transport giant said it had begun the formal process of selling its North American divisions.
The Aberdeen-based group is jettisoning its First Student and First Transit operations across the Atlantic.
First Student is the largest provider of home-to-school student transportation in the US and Canada, with a fleet of 42,500 yellow school buses. First Transit is one of the largest providers of outsourced transit management and contracting services in North America.
The iconic Greyhound coach business, connecting cities throughout the US and Canada, and acquired by FirstGroup in a £1.9 billion deal in 2007, is also being sold.
FirstGroup said yesterday its negotiations in respect of the previously launched Greyhound sale process were "ongoing", while there was already "significant" interest in First Student and First Transit. Financial service powerhouses Rothschild & Co, Goldman Sachs and JP Morgan Cazenove have been appointed to lead the sale process for the two contract businesses.
FirstGroup chairman David Martin said: "We firmly believe that a sale of these assets is the best way to unlock material value for all… shareholders, having completed a detailed review and analysis with advisers appointed by the board to explore all options.
"FirstGroup's bus and rail businesses in the UK will play a key role in supporting the government's plans to stimulate economic growth throughout the country, while reducing the environmental impact of transport."
Chief executive Matthew Gregory added: "Our market-leading businesses have attractive long-term prospects. In First Student and First Transit we have well-invested long-term contract businesses with excellent customer relationships, strong management teams and opportunities for growth, and we look forward to seeing these characteristics being reflected in the outcome of the formal sale process that is now under way."