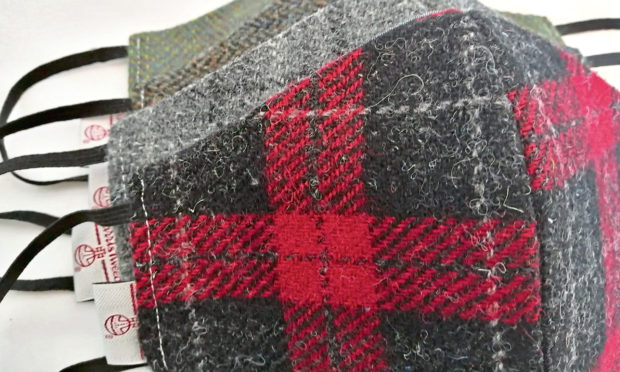 One of the Highlands and islands' most famous traditional products is sparking a new face mask fashion trend.
A weaver and craft worker based in the Outer Hebrides has been inundated with orders from around the world after launching her colourful range of masks hand-made from Harris Tweed this month.
Nikki Crabtree is stitching around the clock to meet the demand as people prepare to emerge from the Covid-19 lockdown.
She has had orders from customers in countries including the US, Japan, Italy, Germany and the Netherlands as well as from around the UK.
Ms Crabtree has been weaving for the main producer of the fabric, Harris Tweed Hebrides, since 2010, working on a loom at her home at Upper Coll, on Lewis.
Trading as the Crafty Weaver, she also makes a range of products from the material, which she sells locally and through e-commerce site Etsy.
She turned her attention to making face masks when the lockdown started and the demand for tweeds dropped.
Ms Crabtree said: "The Scottish Government recently advised that, if you are in shops or on public transport, face coverings, including handmade masks, were advised. If you are going to wear a mask, why not a Harris Tweed one?"
She added: "It's a natural fabric and washable – I've had many surprised comments about that.
"Hot water can be used, hotter than you wash your hands in. I boiled the kettle, and when it stopped bubbling I used that – the fabric can take it."
Ms Crabtree makes each mask by hand, offering two sizes and with a choice of long ties or ear loops.
"They look fantastic – and are a little bit unique," she added.
This week, demand for the masks was so great that Ms Crabtree sold out. But she plans to start marketing them online again early next week, after replenishing her stocks of tweed.
The masks have been given the blessing of the Harris Tweed Authority (HTA), the guardian of the cloth's famous orb trademark.
The Harris Tweed Act of 1993 affords the iconic material, which has to be hand-woven on Lewis or Harris, special protection. The HTA was set up to protect the reputation and integrity of the orb, and promote Harris Tweed.