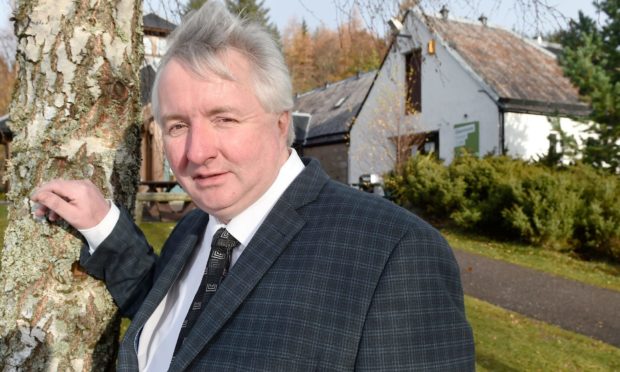 Each week we ask small businesses key questions. Here we speak to Fraser Campbell, founder and managing director of Drumnadrochit company Cobbs.
How and why did you start in business?
After working as a kitchen porter at Kingsmills Hotel in Inverness I followed my parents into hotel management, going on to buy Glenavon Hotel in Craigellachie and then a business in Perthshire.
My old friend Willie Cameron, aka Mr Loch Ness, then pointed me in the direction of the Drumnadrochit Hotel and a small bakery business in the village. I started supplying Urquhart Castle visitor centre and Cobbs Cakes was born.
How did you get to where you are today?
By focusing on quality and value for money, giving my all to my work and seizing great opportunities that come my way, even if it means diversifying away from the core business. Diversification has never been more important than now.
Over the years we have transformed Cobbs Cakes into the Cobbs Group and, in addition to the bakery, we now own four hotels, 20 coffee shops and seven tourist retail businesses.
Everything was growing and developing smoothly until Covid-19, when a business that had taken 25 years to build crashed overnight, with turnover hitting zero almost instantly.
It quickly became apparent to the executive chef and general manager at our Loch Ness House Hotel that while foodservice companies supplying tourism and hospitality businesses were being left with massive stocks of unsold food on the one hand, supermarkets were selling out of key items on the other.
Also, many people – especially the elderly and infirm – were having difficulty shopping safely.
We quickly set up home-cooked meal and affordable hamper delivery services and now sell meat, fish and fruit packed and ready for safe collection at agreed times and for less than customers would pay in supermarkets.
This week, we are also launching both our new Spar grocery store in Loch Ness Clansman Hotel and – very proudly – our new online shop, allowing people to buy our hampers, takeaway meals and vouchers to be used with us next year once everything has opened up again.
This will keep the business afloat and some staff in employment, while serving the community and supporting local businesses and producers.
Out of crisis comes innovation and the creation of a business that benefits all.
Our new mantra is "a few small steps every day".
Who helped you?
My family and fellow directors are extremely supportive and Cobbs is very much a family affair, with my wife Jackie and son Daniel both heavily involved.
Federation of Small Businesses membership has given me the opportunity to share and learn from the experiences of other self-employed people and I am proud to have some great older, highly experienced hotel managers as mentors.
What has been your biggest mistake?
There is no doubt that our biggest crisis is Covid-19 and the biggest mistake imaginable would be to sit back and fail to adapt to changing circumstances.
What is your greatest achievement?
In Ireland on business, I overheard the couple in front of me in a coffee shop queue ordering afternoon tea and asking the server for a portion of Cobbs Date Slice by name. That recognition was a tremendous achievement and made me very proud.
If you were in power in government, what would you change?
I would not relish being in government right now but, if I was, my immediate priorities would be: The abolition of the £51,000 ceiling for grant assistance; a reimbursement of last year's rates to all businesses; the establishment of a landlord fund; the abolition of VAT and rates for 12 months; councils being obliged to work more closely with private enterprise in the running of their commercial facilities; and insurance companies being obliged to give payment holidays during lockdown.
What do you still hope to achieve?
To survive the current crisis, changed but in good heart and ready to face the challenges of tomorrow.
What do you do to relax?
Enjoy quality time with my family.