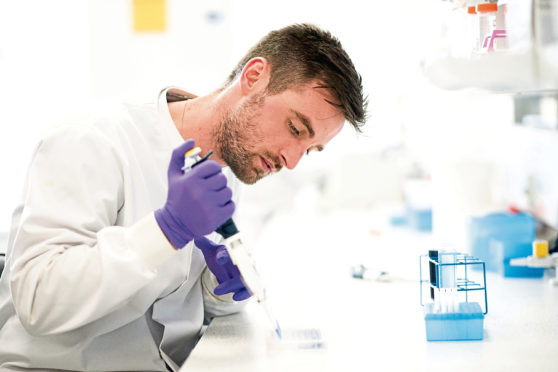 Life sciences firm 4D Pharma has said the coming year will be "pivotal" as its new cancer, IBS and asthma drugs progress through clinical trials.
Announcing the firm's 2019 results yesterday, chief executive Duncan Peyton said "impressive" progress had been achieved towards the delivery of a new class of drug, live biotherapeutics (LBPs).
He added: "4D has firmly established itself as a clinical-stage drug development biotech, focusing significant resources on the clinical development of our lead LBP drug candidates."
LBPs are a relatively new group of medicines that use bacteria in the human body to tackle disease.
More than 30 researchers are involved in the discovery and pre-clinical testing of drugs in 4D Pharma's Aberdeen operation, although the company's head office is in Leeds.
Earlier this month 4D Pharma said it was "encouraged" by the latest trial for a potentially "game changing" cancer drug, MRx0518, which was tested on patients with advanced tumours.
And an asthma drug being developed by the firm in Aberdeen, MRx-4DP0004, is being tested on 90 suspected Covid-19 patients at hospitals around the UK this quarter.
4D Pharma has also made further progress in expanding its US presence – bringing in millions of pounds of new investment after a fundraising exercise in February.
Mr Peyton said the firm''s bosses were "continually exploring" other sources of finance.
The company posted pre-tax losses of £29.4 million and zero revenue for 2019.