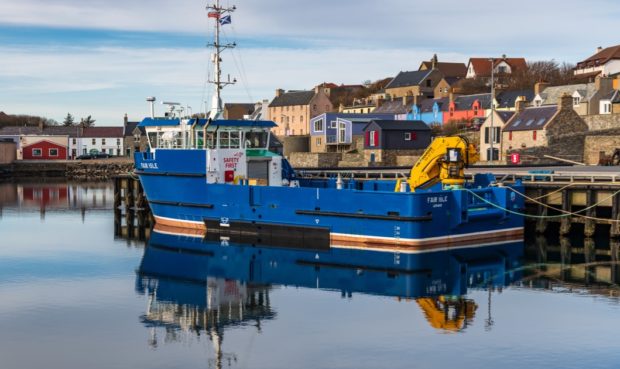 Scottish Sea Farms (SSF) is putting a new £1.9 million workboat into service for the first time as its latest weapon against fish disease.
The salmon farmer said yesterday the 70ft by 30.5ft Fair Isle – named after the island lying between Shetland and Orkney – would work primarily in its most northerly operations.
With successful sea trials behind her, the vessel is in Shetland and due to make her maiden voyage to Orkney within days.
Fair Isle will be used for preventative veterinary treatment, targeting gill health problems in particular.
Gill disease is said to be one of the biggest challenges facing salmon producers globally and recognised by Scotland's 10-year Farmed Fish Health Framework as a priority area for action.
SSF managing director Jim Gallagher said: "The Covid-19 pandemic has reinforced the need to safeguard the supply and flow of fresh, nutritious food around the world and we remain as committed as ever to investing in the areas, activities and infrastructure that will ensure our farming approaches are fit for the future."
Fair Isle is the second vessel to be built by Dutch firm Nauplius Workboats on behalf of SSF after Sandoyne Lass, which services the company's Westerbister farm in Orkney.
The workboat frees up another vessel, Sally Ann, to service farms on the mainland, improving response times across the firm's 42-strong estate.
Ralph Bickerdike, head of fish health for SSF said: "Having an additional vessel means we can respond more quickly and be more proactive in those instances where a veterinary treatment would help prevent an emerging health challenge from developing.
"At the moment, things are looking good in terms of gill health and fish survival for the year to date is 96%, which is as it should be during a low water temperature period.
"However, we can't be complacent; we need to make sure as we go into the summer that we have all the resources available.
"As with the rest of the sector, we faced a huge challenge in terms of gill health last year and we've made a series of investments as a result.
"We're working hard to ensure our farmers are equipped to deliver preventative care as and when it's required and the Fair Isle will help towards that."
Fair Isle was designed to withstand the extreme weather conditions of Shetland and Orkney.
Her two crews of three will work a three-week-on, three-week-off shift pattern.