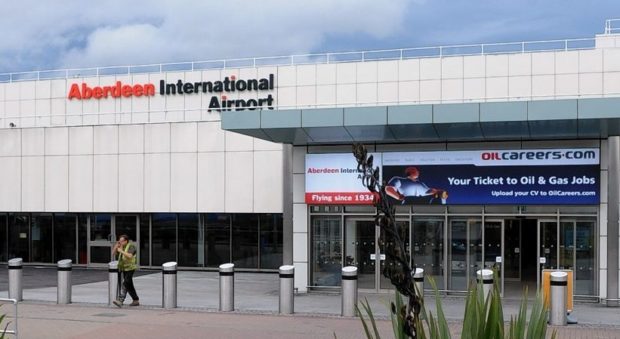 Workers at Aberdeen International Airport (AIA) are facing uncertainty over their jobs after aviation services firm Swissport warned more than half of its UK and Irish roles may be axed.
The company told staff today up to 4,556 jobs could be cut.
Union bosses at Unite Scotland fear more than 800 jobs could be lost at Scottish regional airports, including up to 70 in Aberdeen, as many as 300 in Edinburgh and up to 440 in Glasgow.
A spokeswoman for Zurich-based Swissport was unable to give any details of the likely regional impact as "we want to give the stations time to speak to their teams".
The company's website lists operations at 25 UK airports, including AIA.
Inverness is also listed but a spokesman for Highlands and Islands Airports, which runs the north terminal, said Swissport no longer operated there.
A spokesman for AIA operator AGS Airports said: "This is a devastating blow for all those affected and it highlights the very real challenges facing the aviation sector as a whole.
"It's for this reason we're calling on the UK Government to provide specific support for our sector beyond October and the end of the coronavirus job retention scheme."
Swissport UK and Ireland chief executive Jason Holt said: "Swissport is an essential part of the country's supply chain and pivotal to the UK and Ireland's aviation industry.
"But the Covid-19 outbreak has hit us hard, beginning with the collapse of Flybe back in March.
"At its core, our business relies on a high volume of flights taking place. When aircraft aren't flying, our source of revenue disappears. As of May, revenue had dropped by around 75% across our business."
Mr Holt added: "We are grateful for the help of government support schemes, which have allowed us to take the time to properly consider our position and do everything possible to work for solutions that will protect jobs.
"But we now must adapt to the unfortunate reality there simply aren't enough aircraft flying for our business to continue running as it did before Covid-19; and there won't be for some time to come.
"It is with regret that today we are taking steps to reduce the size of Swissport's workforce."
Swissport currently employs about 8,500 people, including baggage handlers and check-in staff, in its UK and Irish operations.
"The situation we're facing is one shared by the whole industry," Mr Holt said, adding:
"These are very challenging existential times.
"This is a hard decision to make, but immeasurably harder for our colleagues to hear.
"It's an essential decision if we are to keep operating and to protect as many livelihoods as possible in the long run."
Unions said the announcement was "devastating" news, especially for regional economies, and repeated their call for the UK Government to offer help to the aviation industry.
Nadine Houghton, national officer of the GMB, said: "With Swissport now considering job cuts on this scale, we have deep concerns about the viability of many of our regional airports and the benefits for regional connectivity that they bring."
Oliver Richardson, national officer of Unite, said: "We can't wait any longer, the UK Government needs to urgently intervene with a bespoke financial package and an extension of the 80% furlough scheme for the aviation industry.
"Speed is of the essence if the government is to save thousands of aviation jobs and livelihoods."
Unite regional industrial officer Pat McIlvogue added: "The announcement by Swissport is absolutely devastating news, with more than 800 jobs being potentially lost at all three major Scottish airports.
"We are now witnessing the domino effect cascading throughout the civil aviation industry, from cabin crew to airport workers through to baggage handlers and security staff.
"It's imperative the Scottish and UK governments bring forward a tailored supportive package for the industry.
"If we don't, then thousands of jobs will be lost and when we come out of lockdown there will be no workers in any major Scottish airports left to support the industry getting back off the ground."
The International Air Transport Association has forecast that airline industry traffic may not recover to 2019 levels until 2023, and under some scenarios not until 2024.