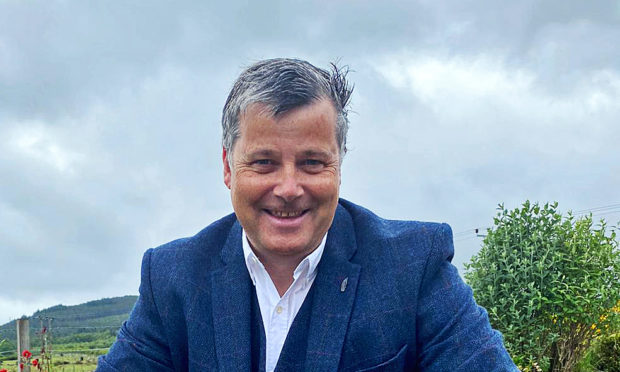 Each week, we ask small businesses some key questions. Here we speak to John Murray, founding director of the Highland Food & Drink Club
How and why did you start in business?
Born and raised in Brora, I joined the family wholesale fruit and veg business after serving my apprenticeship as a mechanic and quickly found myself running it.
I soon realised I had an independent, entrepreneurial streak, and left the business to go it alone – running Spar, Mace and Nisa convenience stores in the Highlands and Moray. I bought and sold 15 stores over the years, and at one stage had nine shops employing 95 people.
Feeling it was time to move on and wanting to spend two years giving something back to the sector, I sold up and joined Scotland Food & Drink, in 2017, as Highlands and islands business development manager.
How did you get to where you are today?
After two years at Scotland Food & Drink my hunger to help Highlands and islands businesses achieve their full potential had still not been sated, so I looked around for new opportunities to get my teeth into – becoming a non-executive director of the Farmer Jones Academy and a board member of High Life Highland.
Then came the idea of setting up the Highland Food & Drink Club. Using my experience, connections, passion and drive, I am creating an organisation that will provide an opportunity for often isolated businesses to connect, and find innovative and effective new ways of working together, and generally celebrate our wonderful produce.
I see this as a legacy project that will help a vital sector flourish and, hopefully, create employment for younger people. It has been set up as a community interest company, with profits split between Cash for Kids and the Farmer Jones Academy.
Who helped you?
We all need help and advice, and I have been very fortunate in having a very large and diverse network of friends and acquaintances to support me.
Pals Stanley Morrice and Innes Macdonald are always there to guide me and add some balance, and my family have been a great support and encouragement throughout. I also like speaking to David Richardson, the Federation of Small Businesses' Highlands and islands development manager – he adds a different dimension to my thinking.
What has been your biggest mistake?
We all make them, and learning from them is important. The biggest? Possibly buying a rather large property in Golspie. I look back and wonder what I was thinking of.
What is your greatest achievement?
At home it's my daughters, Nicole and Shelley, and son, Robbie, and building a lovely home with my partner, Brenda Irving. At work it's developing 15 shops and exiting at just the right time – but it will soon be the Highland Food & Drink Club.
If you were in power in government, what would you change?
I would develop a regional hub, or single entry point, for each sector – food and drink, energy, social enterprises, childcare and so on – governed by a mix of industry and public sector people. There are far too many layers currently.
What do you still hope to achieve?
To help Highland producers and outlets develop and grow their food and drink sales through much greater local, national and international recognition of all that we have here – fantastic provenance.
What do you do to relax?
Take Daisy, our Cavapoo (a cross between a Cavalier King Charles Spaniel and poodle) for walks, spend time with the kids and watch motorsport.
I'm getting back on my bike now too. It's good to get out and clear the head.
What are you currently reading, listening to or glued to on the TV?
I have not had time to read lately and have a few books to start. I particularly like biographies. I'm also enjoying watching Little Fires on Amazon.
What do you waste your money on?
I bought a hot tub which I say was a waste of money, but others in the family disagree.
Money is for enjoying, though wasting it is never good.
How would your friends describe you?
I hope caring, loyal, and there for them when they need me.
What would your enemies say about you?
Some folk have possibly judged me before getting to know me and I can be outspoken, but I hope I have no enemies.
What do you drive and dream of driving?
I drive a Range Rover Sport and would love a black Ferrari California before I get to the Honda Jazz stage of life.