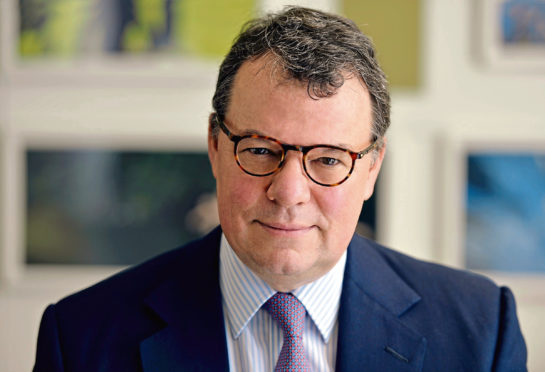 The chief executive at Standard Life Aberdeen says he is leaving the firm following a "resilient" performance despite some of the most challenging conditions experienced during his 40 year career.
Keith Skeoch, who along with Martin Gilbert led the £11 billion merger of Standard Life and Aberdeen Asset Management in 2017, was speaking yesterday following the publication of the firm's half year results.
He is to be replaced by Stephen Bird, a former executive at US-headquartered banking giant Citigroup. This follows the appointment of Sir Douglas Flint as chairman of SLA at the start of last year.
Mr Skeoch said he was both sad and excited about the new chapter ahead having been appointed chairman the firm's research institute.
SLA reported revenues of £706 million for the first half of 2020, down from £815 million this time last year.
Meanwhile the UK's second-largest asset manager reported adjusted pre-tax profit of £195m compared to the £280m posted for the same period the year before.
Assets under management and administration fell from £544.6 billion to £511.8bn at the end of June. The firm said the coronavirus crisis and subsequent lockdown played a part in the dip in revenues, with client preferences changing asset mix in the current environment.
However, the firm said it was going to remain one of few FTSE 100 firms to keep their dividend payment to shareholders.
Mr Skeoch said: "Despite exceptional circumstances we have delivered a resilient performance. In the first half of 2020 redemptions have slowed
and net inflows have improved, excluding expected LBG withdrawals. Investment performance has been robust and we continue
to deliver on our synergy commitments.
"There is no question that the impact of COVID-19 has played a role on our results today, and across our industry, particularly in
relation to lower revenue. Our foundations are firm, we have a strong balance sheet which enables us to both invest in our
business and maintain our interim dividend of 7.3p.
"We have a strong commitment to responsible investment, and a resolute belief in our purpose 'Together we invest for a better
future'. This is reflected in our response to the pandemic, where we have focused on protecting the safety and wellbeing of our
people, ensuring we can continue to deliver for our clients and customers, and supporting the communities in which we operate.
Our people recognise this and it's reflected in the significant improvement we have seen in our culture over the last 12 months."This is my last set of results as Chief Executive of Standard Life Aberdeen, following 21 years with the business – a period
where I have seen the business evolve from a mutual life and pensions company to a capital-light global investment house. I am
pleased to hand over a business with strong foundations, an enviable capital position, talented people, enduring relationships and
big ambitions."