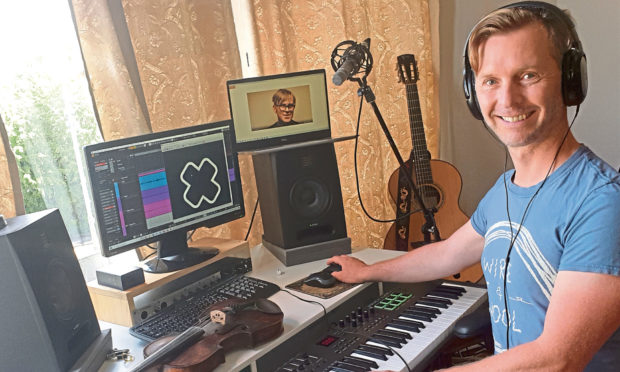 Arts support organisation XpoNorth has teamed up with the University of the Highlands and Islands (UHI) to launch a new initiative aimed at helping students graduate to careers in the creative industries across the region.
The free scheme, branded LevelUp!, offers more than 1,000 people studying at UHI for qualifications linked to the sector access to key industry contacts, including producers, publishers, film-makers and musicians.
It will also help them secure mentoring from specialists, identify work experience and networking opportunities and tap into resources such as podcasts, videos and other learning materials.
The first LevelUp! is taking place this week, with creative writing degree students participating in a guest lecture series as part of their autumn residency programme.
Among the lecturers are novelist Doug Johnstone, thriller writer, podcaster and entrepreneur Joanna Penn and Edinburgh-based literary agent Jenny Brown.
Alex Smith, of XpoNorth, said: "LevelUp! will offer students a range of support to explore the diversity of pathways into a fulfilling career in the sector and looks at the skills and networks required to make this transition.
"The current environment continues to see the creative industries undergo significant changes, which may add a layer of uncertainty for many students as they start to think about their future. With that front and centre, LevelUp! offers a valuable interface between academia and commercial opportunities."
Among those hoping to benefit is Shetland-based Barry Nisbet, a fourth year applied music degree student, who has previously secured work experience with Belfast firm Score Draw Music, with the help of XpoNorth.
Mr Nisbet said: "My placement with Score Draw Music gave me an in-depth insight into the worlds of film scoring and music publishing, and has opened exciting new avenues for my career in music."
Sector is worth around £740 million to region annually, says HIE
North development agency Highlands and Islands Enterprise (HIE) has estimated that creative industries are worth around £740 million to the region annually and account for more than 5,000 jobs in the area.
UHI says many of its graduates have "gone on to great things" in the sector locally, nationally and internationally, including its 2019 alumnus of the year, Anne Lundon, a Scottish media broadcaster who studied at Lews Castle College UHI.
Amid the continuing impact of the Covid-19 pandemic, the launch of the LevelUp! initiative with XpoNorth comes at a challenging time for all sectors and students, including those studying subjects related to creative industries.
The partnership behind the new scheme said it would help resolve new challenges affecting businesses in the sector, including problems in filling skills gaps.
Professor Crichton Lang, UHI's interim principal and vice-chancellor, said: "The University of the Highlands and Islands partnership is playing a vital role in supporting the recovery of our region following the Covid-19 pandemic.
"We are proud to have an exceptional relationship with XpoNorth, and this initiative displays how valuable the partnerships we have established are as we respond to the needs of employers, learners and communities as the nature of employment changes."
The LevelUP! initiative is open to all UHI creative industry students across its network of establishments in the Highlands and Islands.
Backed by HIE, XpoNorth holds what is described as "Scotland's leading creative industries festival" in Inverness every year.
The organisation also provides year-round business support and help to the sector in the region.
Covid-19 restrictions saw this year's XpoNorth festival "re-imagined" and staged online in June.