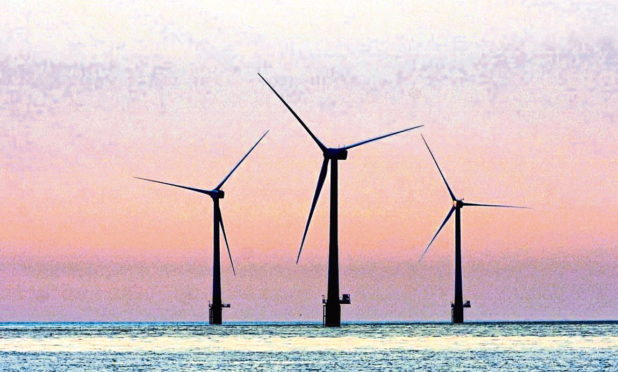 All of the turbine jackets for Scotland's largest offshore wind farm will be fabricated thousands of miles away.
Scottish firm Burntisland Fabrications (BiFab), whose three currently mothballed yards include the Arnish facility, near Stornoway, has failed to win any work on the £3 billion Seagreen project.
A Chinese yard has been chosen to fabricate 84 of the 114 turbine jackets for the development before shipping them to the North Sea.
The Scottish Government campaigned for BiFab to win the work, but operator SSE Renewables said the gap between BiFab's submission and foreign rivals was "too significant to close".
It follows the earlier award of a contract for 30 jackets for the wind farm to United Arab Emirates (UAE)-based Lamprell.
Seagreen is being built 17 miles from the Angus coast and will have its operations and maintenance base in Montrose. It was hoped some of the lucrative work would come to Arnish, as well as BiFab's yards in Burntisland and Methil.
BiFab union GMB Scotland said the Chinese contract showed Scotland's ambitions for green jobs was failing.
GMB organiser Hazel Nolan said: "We would warn industry majors like SSE and the governments at Holyrood and Westminster that constant disappointment is now turning to growing anger.
"Communities dependent on offshore wind fabrication contracts… are being totally failed, and so is the country.
"Scraps off the table from our own offshore wind sector is bad enough, but when billion-pound fabrication contracts are wholly completed abroad and then shipped to the waters off Scotland, you know that any credible prospects for a green economic recovery are sailing by."
BiFab's Canadian owner, DF Barnes, said it had made its "very best efforts" in negotiations with the Seagreen project team.
A spokesman for the firm added: "We are extremely disappointed the developers have chosen to exclude Scottish yards from any fabrication contracts.
"Instead SSE, in the face of what could be one of the worst recessions in modern history, has chosen to give all of the fabrication work for one of the largest offshore wind farm projects in the world to companies in China and UAE.
"This is a missed opportunity for Scotland and a matter of deep regret to us and our partners.
A Scottish Government spokeswoman said the contract decision was "disappointing" and claimed the BiFab bid was competitive with others.
A spokesman for SSE Renewables, said: "As a Scottish headquartered company, SSE Renewables and our parent, SSE plc, has been championing the development of the Scottish supply chain for 20 years, creating jobs and delivering £8bn in economic value in the country every year.
"We've already announced over 1,000 jobs since June on three huge projects, together worth over £4bn, with Scottish firms already benefiting including Glasgow's RJ McLeod and Aberdeen-based Seaway and Petrofac – and we want to do more.
"We wanted nothing more than to award work to a Scottish firm that would help set them up for future success. Unfortunately, on this occasion, the gap between BiFab's offering and that of competing fabricators was too significant to close.
"This is further proof that industry and government need to step up efforts to build an investable, globally competitive UK supply chain, and SSE Renewables remains committed to working closely with the Scottish and UK government,s and other stakeholders to do so."
US engineering group Fluor Corporation confirmed its Chinese joint venture, COOEC-Fluor Heavy Industries, will make the 84 jackets and suction caissons for Seagreen.