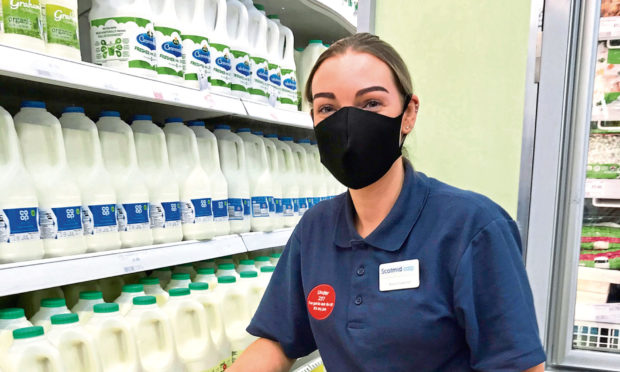 Scotland's largest independent co-operative is considering changes to the "food-to-go" offering in its city and town centres stores after a fall in sandwich and snack sales caused by the Covid-19 crisis.
It comes amid a drop in trade from groups such as office workers and school pupils,
Yesterday, Scotmid chief executive John Brodie said a shift of focus to stocking more ready meal products, aimed at shoppers living nearby, was an option the co-operative may pursue.
Mr Brodie was speaking as Scotmid, which has 177 convenience stores around Scotland, including outlets in the north-east, Moray and the Highlands, posted first half results boosted by a surge in local shopping, stemming from coronavirus lockown restrictions.
The figures for the six months to July 25 revealed a £6.7 million jump in turnover to £197m, compared to the same period in 2019, while trading profits rose to £3.1m from £2.5m year-on-year.
Scotmid said trade had dropped at its city centre shops and those with a "high reliance on food-to-go," but most of its other stores had recorded sales growth.
Mr Brodie said: "What we have seen is local stores performing better but city centre stores missing trade, whether that be from offices, factories or schools, particularly during lockdown.
"It has also happened at stores which had a significant element of food-to-go, which served people either on the way to work or school, or wherever they may have been going.
"We may look to alter our offer to meet the needs of those communities over time and it may be that we focus on other areas of food-to-go. We might be missing out on passing traffic, but there may be opportunities to save those who stay in these locations from having to prepare or cook meals."
Mr Brodie also said Scotmid had put all expenditure on hold at the start of the crisis, unless it was critical to keep stores open.
He added: "Since lockdown restrictions were relaxed we have done certain works in-store and two big developments we have are back on site.
"But our thinking and our priority until things are more certain is very much around keeping stores open. We still continue to invest in our store estate, but it is appropriate investment at the moment."
Scotmid described its results as "mixed" for other parts of the business, including its 89 Semichem stores, which were closed for 10 weeks, its property wing, which "came under pressure" and its funeral division, which Mr Brodie said had been busy "but in incredibly difficult circumstances".
He added that a dip in pre-tax profits to £1.51m for the latest period, from £1.86m in the first six months of 2019, was down to a one-off gain on the sale of a property last year and "some exceptional costs" recorded during 2020.
In total, Scotmid, which also operates in the north of England and Northern Ireland, has 300 retail outlets and employs around 5,000 people.