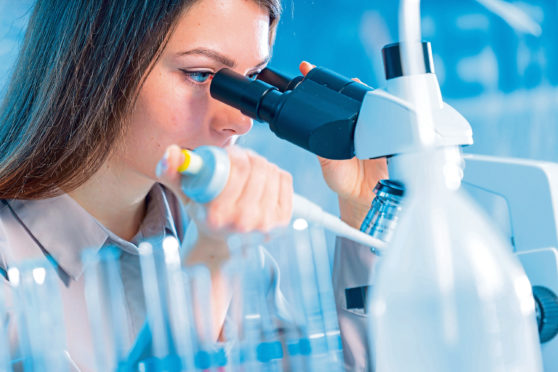 Aberdeen has been highlighted in a new study as "one to watch" in a fast-growing Scottish life sciences industry.
Global property giant Savills analysed data gathered by US firm Pitchbook, which specialises in research and technology for private capital markets, to find out more about investment patterns for life sciences throughout the UK.
The strengthening of Scotland's life science sector is "clear to see", with more than £600 million raised for companies headquartered north of the border during the past three years, Savills said.
While Edinburgh and Glasgow account for 50% of the total number of capital-raising deals recorded in Scotland since 2018, Aberdeen is "one to watch" as an emerging life science cluster, it added.
Nearly £140m of venture capital funding has been raised for life sciences firms in Scotland this year, according to Savills.
Aberdeen's share of investment in the sector north of the border during 2020 is up by 17% on the combined total for the city in 2018 and 2019.
Savills said the latest Aberdeen data was based on fewer deals than Glasgow or Edinburgh, but the growth "shows larger capital raising transactions can happen in the city".
Dan Smith, head of the Aberdeen office at Savills and director in the firm's business space team, added: "Momentum to reduce the reliance on oil and gas in the north-east is building.
"Through my role at Savills and my involvement on the policy council of Aberdeen Grampian Chamber of Commerce, I see first-hand the swathes of initiatives supporting diversification in the local economy.
"With an established talent pool and essential critical mass, Aberdeen is well-positioned to support the growth of life sciences in the area which, together with hydrogen and renewable energies, can deliver a sustainable employment platform for our city going forward."
Economic development partnership Opportunity North East (One) is at the heart of efforts to nurture and grow a life sciences cluster in the Aberdeen area, where companies like NovaBiotics, 4D Pharma, EnteroBiotix, Bio Technics and Nod-Thera are helping the sector to flourish.
One recently launched virtual workshops and associated one-to-one support to help life science firms in the region prepare for raising investment.
Professor Stephen Logan, life sciences sector board chairman, One, said: "The profile of life sciences has never been higher as society, policymakers and markets look to the sector to provide solutions to global health challenges, including Covid-19.
"This year is on target to be the best ever for investment for the rapidly expanding UK biotech sector, and Aberdeen's strengths in biologics and digital health are significant growth opportunities.
"We have an exciting cluster of life sciences companies in the region. Industry's ambition is to double the number. One is working with partners to accelerate collaborative innovation and commercialisation to achieve this goal.
"Collective action and investment, spanning industry, academia and the clinical community, will ensure life sciences businesses are a key element of our economy."
Savills said the east and south-east of England dominated the UK industry, driven by the strength of the Oxfordshire and Cambridgeshire markets.