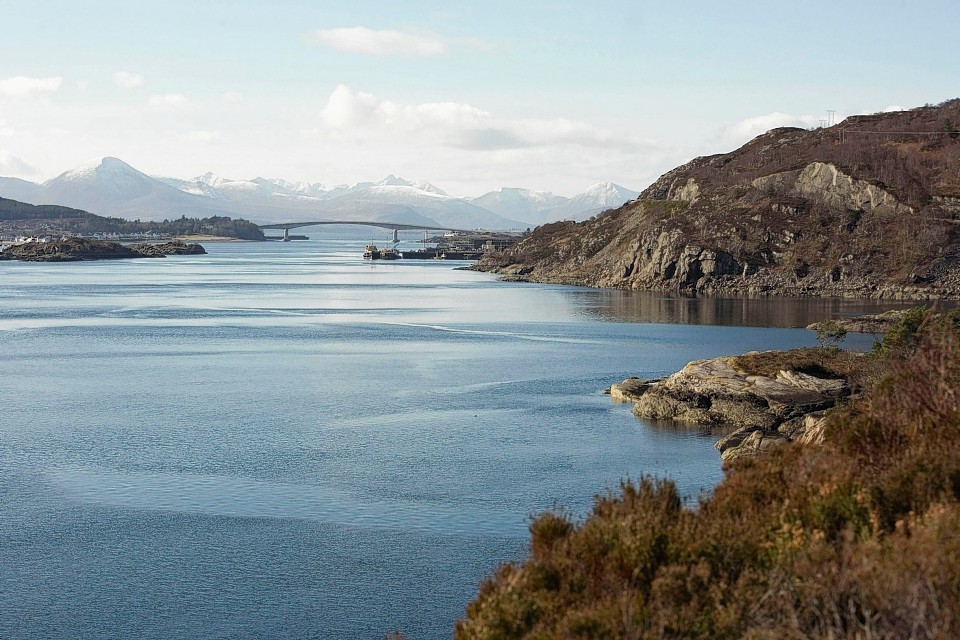 Each week, we ask small businesses some key questions. This time we speak to Nigel Smith, director of Kyle of Lochalsh-based wildlife cruise operator Seaprobe Atlantis.
How and why did you start in business?
I grew up on the Island of Pabay, just off the coast of Skye. I helped my parents harvest seaweed and pick winkles, spending a lot of time on the beach and developing a love for the marine environment that has never left me.
After leaving school, I worked in aquaculture for a number of years – oyster, scallop and mussel farms – but I really wanted to do something that would capture the excitement that I always felt exploring rock pools. You never know what you're going to find. I came up with the idea of a semi-submersible glass-bottom boat – mostly because I couldn't wait to get underwater and do some exploring myself.
How did you get to where you are today?
After coming up with the idea for Seaprobe Atlantis, I approached a naval architect to draw up plans and found a boatyard to build the boat. Both it and my business were launched in 1998.
If it sounds simple, believe me, it wasn't. As the first semi-submersible glass-bottom boat in the UK, the Maritime and Coastguard Agency were all over it from the start.
If you try to do something that's never been done before, then you should expect road blocks at every stage. But don't let that discourage you – there is usually a way through, if you work hard and persevere.
Who helped you?
It's impossible to list everyone but I should mention: Alistair Salmon, who designed the boat; the Clydesdale Bank, the only bank prepared to lend to an untried venture; Sandy Morrison, who built the boat; and the family members who raided their piggy banks and gave unstinting support.
The Federation of Small Businesses (FSB) deserves special mention. When you work in an office you're usually part of a team, while being self-employed can be very isolating. It's great to know that the FSB is covering your back and even now, after 17 years in business, I still go to the FSB for advice and support.
What has been your biggest mistake?
Employing a crook to build our second boat. The boatyard looked great, the quality of boats being built seemed fantastic and the builder's enthusiasm appeared to be boundless – but it was all a sham. The business was built up so that orders and money poured in, and then the balloon was deliberately burst.
We lost £141,000 but count ourselves lucky. One old couple had sold their house to build a canal boat that was to be their retirement home, only to find that there was no boat and that all their life savings had gone. The police pursued the case for a while before giving up.
What is your greatest achievement?
Surviving all of that. We found Mike Brodie, of McTay Marine, who ended up building our second boat and did a fantastic job. We are eternally grateful to him for helping us out of a huge hole.
If you were in power in government, what would you change?
The law that deems preventing someone from being a director for three years to be sufficient punishment for deliberately collapsing businesses and destroying peoples' lives.
I would also change the equally stupid law that permits salmon farmers to site their farms near established seal colonies, and then gives them the right to shoot seals that go near their farms.
What do you still hope to achieve?
I hope to help persuade the government that it's never justifiable to shoot seals. If salmon farmers want to protect their fish from seals, they should avoid positioning their farms near to existing seal colonies in the first place. They should also install anti-predator nets.
What do you do to relax?
Relax – what's that?
What are you currently reading, listening to or glued to on the TV?
Come Dine With Me. I think I'm a great cook – it's just a shame that nobody else thinks so.
What do you waste your money on?
Boats.
How would your friends describe you?
Hard working, focused and determined.
What would your enemies say about you?
More or less the same but possibly interspersed with swear words.
What do you drive and dream of driving?
I drive a semi-submersible. The boat I dream of driving doesn't exist – yet.