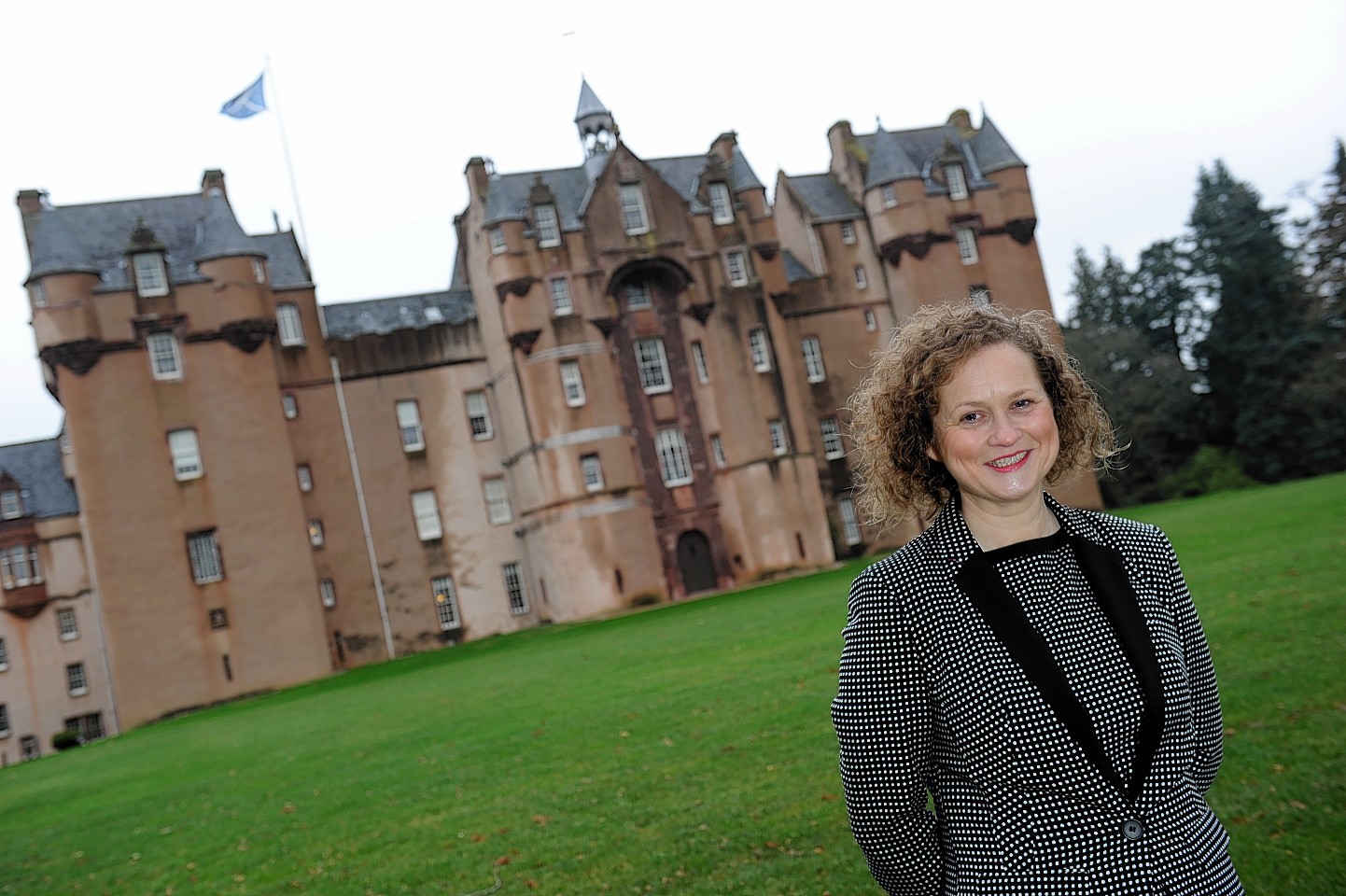 What better way to round off a week of business meetings than a banquet for a hundred people in an thirteenth century castle haunted by a grey lady?
Perhaps you'll invite your conference delegates to an evening party in a hunting lodge decorated with thousands of deer skulls – or organise a team building event at an adventure playground built for adults.
Castles and great houses are among the greatest assets of the north-east but they are underused – particularly by business – according to Jayne Hinds, business development manager of the National Trust for Scotland.
"The great thing is we have got such a wonderful range of properties and we can tailor what we offer depending on what people need," says Ms Hinds, appointed six months ago and now based in a converted stable block at Castle Fraser.
Ms Hinds, who is originally from Stonehaven, previously promoted corporate events at Edinburgh and Stirling Castles for Historic Scotland. She now has a portfolio of nine extraordinary properties – ranging from former royal palace Fyvie Castle to refined Georgian masterpiece Haddo House.
"Half of the National Trust properties in the whole of Scotland are up here," says Hinds. As well as seven Aberdeenshire properties her domain extends to Brodie Castle in Inverness and the House of Dun in Angus.
As well as opening to the public, and being available for weddings, each can be hired for exclusive use by corporate clients – for grand dinners, product launches, team building or company hosted family events.
"At the moment, 65% of our business is weddings and only 25% comes from corporate clients.
"Roughly 80% of our corporate clients are oil and gas companies."
Hinds new role is part of a concerted effort by the National Trust to increase corporate business and help tackle the never ending repair bills that come with historic properties.
Henk Berits, NTS director of commercial services, says: "Our portfolio of magnificent Scottish castles and elegant country houses are ideally placed to host a variety of unforgettable events. Jayne Hinds' appointment as Business Development Manager signifies a further step in our commitment to growing the business and developing on-going relationships with corporate clients.
"As a charitable organisation the National Trust for Scotland is wholly dependent on the income we receive in order to carry out our vital conservation work. In welcoming corporate events at our unique venues we're helping to preserve the nation's cultural heritage for future generations to enjoy."
Ms Hinds says she will make it her mission to spread the word.
"I will be knocking on doors. That is something the NTS has never really done before.
"Everybody knows the Trust properties in terms of visitor attractions and places to visit. But we want to increase corporate business.
"We want to make people aware that they can hire our properties for an event. Whereas Edinburgh Castle has three different rooms up here every property is exclusive use. It is only that one party that will be using the property."
Castles and country houses can be booked for banquets or grand dinners, using one of six specially chosen caterers. Or they can be used as spectacular venues for meetings. They can provide a beautiful backdrop for a company-run family fun day or an inspirational setting for team building.
Falconry displays, woodland walks, whisky tasting, clay pigeon shooting and salmon fishing are among a range of activities available on request.
Ms Hinds says: "A lot of our properties really lend themselves to these big events. But we want to do more.
"We have got great staff. The staff that work at NTS properties are so passionate. They know the properties inside out."
NTS event staff can find you a piper, a string quartet or a ceilidh band. They can set up a whisky tasting with an expert. They can find you somewhere to park your helicopter. They will stage a dinner at which guests go back in time. And they have been known to organise murder mystery evenings and tailor-made ghost tours – particularly at Fyvie – which is one of Scotland's most haunted castles.
And corporate business is worth chasing. According to the latest statistics from Visit Scotland the economic benefits of business tourism are worth £1.9billion a year.
Neil Brownlee, Head of Business Tourism at VisitScotland, said: "Business tourism contributes £1.9billion to the Scottish economy. This key sector not only supports conference centres and hotels throughout the country, but hundreds of other operators not normally associated with tourism, such as audio-visual companies, independent caterers and unique venues.
"When people think of holding business events in Scotland, their first thoughts might be of an inner-city conference venue, but the historic castles across the country offer an impressive backdrop for a gala dinner or team building event."
The jewel in the crown of the NTS portfolio in the north-east is Fyvie Castle. Built by Scottish kings the five-towered castle can host 120 guests for dinner.
Also for hire is Mar Lodge, a hunting lodge in the Cairngorms, famous for its ballroom, decorated with the skulls and antlers of 2,435 wild deer.
At Crathes Castle, where the NTS has recently invested £70,000 in a new conference centre, guests might also take the opportunity to take a zip wire through the forest with adventure tourism company Go Ape.
While 35 guests can stay overnight at Mar Lodge and there is some accommodation at Fyvie Castle and Brodie Castle most of the NTS properties do not allow guests to stay the night. So the NTS works closely with Aberdeen and Aberdeenshire hotels.
Another key ally of Ms Hinds is Rosemary McLennan, Aberdeen-based founder of the Scottish PA Network. She provides a hotline to 3,000 high powered PAs across Scotland – very often the people making bookings for corporate events. She is a big fan of National Trust for Scotland properties.
"You are on to a winner because people love these places. These properties are held in really high esteem in the north-east."
McLennan says organising a high profile dinner or a team building day at an NTS property can be a great way for a business to make employees feel valued.
"It is about giving people a reward but also because the NTS is a charity the money goes back to them.
"And they are very flexible. They are willing to work with whatever you want. If you want to do something different they will say: 'Go for it'."
Also important in attracting new business is to reach the incentive market which is a particularly big thing among companies in Norway and Germany.
Ms Hinds explains: "These are events which are seen as a reward. People will come over for a whole programme of events. They'll do lots of activities.
"Visit Aberdeen are looking at bringing over some companies that specialise in incentive events. I also have a good relationship with some of these companies from my work promoting Edinburgh Castle."
As well as talking to events organisers from around the world she will also continue knocking on doors to make sure other north-east businesses know the treasures that are on their doorstep.
Peter Medley, Visit Aberdeen marketing director believes demand is out there.
"As far as conferences and business tourism go it is something associated with this part of the world.
"Here in the north-east we have beautiful countryside, whisky, golf and castles. So to have an event at a castle as part of your itinerary is something quite special."
Fyvie Castle
One of Scotland's most haunted. The grounds can host up to 4,000 people for corporate barbecues and family fun days. Inside there is room for 120 for dinner.
Drum Castle
Very close to Aberdeen, 700 years old. Can host 150 people for dinner
Castle Fraser
Up to 70 people can dine in the mediaeval great hall. It is the only property where dancing is allowed inside.
Crathes Castle
Magical turreted castle in Royal Deeside surrounded by beautiful grounds. Home to Go Ape forest adventures. In summer, meetings can be held in the courtyard.
Haddo House
A grand house built by William Adam, Haddo House is well known as a venue for music and the arts.
Leith Hall
A great house with a uniquely warm and relaxed atmosphere, Leith Hall re-opened last year after renovations.
Mar Lodge
Three miles west of Braemar. There are 28 bedrooms within the lodge and the estate, making it one of the few places to offer accommodation.
House of Dun
A fine Georgian house designed by William Adam, the House of Dun is three miles west of Montrose. It is the only property to offer salmon fishing.
Brodie Castle, Inverness
Thirty minutes from Inverness Airport, Brodie Castle has seven bedrooms in the Laird's Wing. The castle can be used to host meetings for up to 100 people.