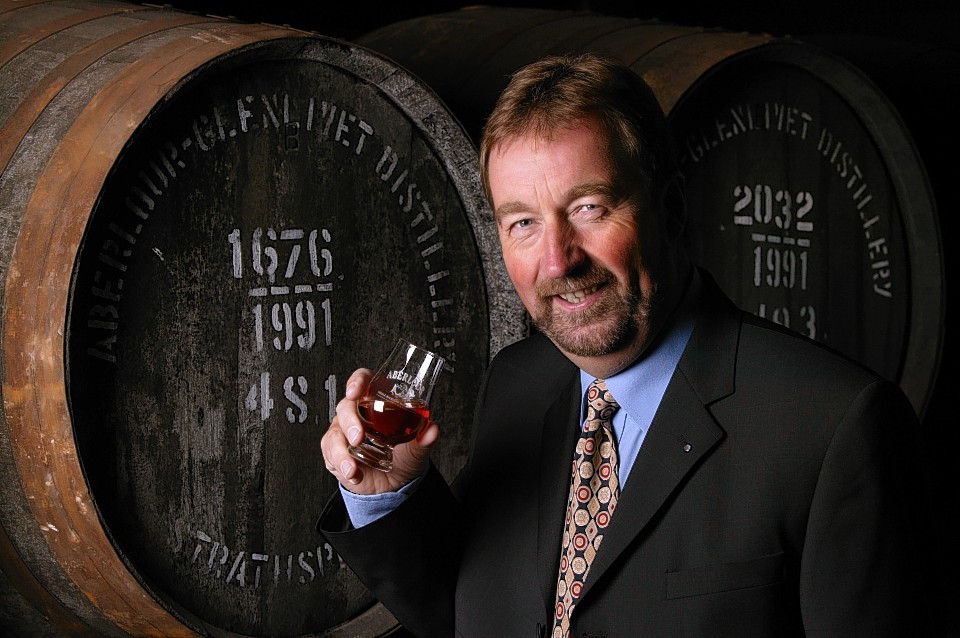 Whisky-maker Chivas Brothers bade a fond farewell to Douglas Cruickshank who has retired following a distinguished 47-year career in the industry.
Mr Cruickshank had stepped down from his role as production director last year to oversee the development of the company's new Dalmunach Distillery in Speyside.
The new distillery was built on the site of the company's since-demolished Imperial distillery – where Mr Cruickshank had begun his career as a 15-year-old labourer in 1967.
Following his beginnings at Imperial, Mr Cruickshank progressed through various roles with then-owner Distillers Company, as well as a spell working for J&G Grant at Glenfarclas, before joining Campbell Distillers in 1992 as Distilleries Director.
In 2002 following the acquisition of Chivas by French drinks giant, Pernod Ricard, Mr Cruickshank was appointed production director responsible for distillation as well as warehousing and inventory. This role was enhanced when Pernod acquired brands of Allied Domecq in a £7.4billion deal in 2005, including Ballantine's whisky.
In 2007 he was promoted to Operations Director, which included responsibility for bottling and procurement.
In 2012 Mr Cruickshank's role changed to again focus solely on production, with responsibility for Chivas' distillery expansion programme. On completion of this Mr Cruickshank relinquished his role as director, whilst agreeing to stay on to oversee the design and build of Dalmunach near Carron, which commenced production in October this year.
Under his stewardship the company won 'Distiller of the Year' at the International Wine & Spirits Competition on several occasions between 2002 and 2010. In 2004 he was named 'Master of the Quaich' – a title held by fewer than 200 people worldwide, and a mark of recognition by the whisky industry of 'an exceptional personal contribution.'
Mr Cruickshank said: "Managing two major acquisitions – Chivas Brothers in 2002 and Allied Distillers in 2005 – was a significant highlight for me and Pernod Ricard. During my time in the industry there have been huge improvements in technology, driving improvements in production, particularly in relation to energy efficiencies.
"I attribute both my success, and that of Chivas Brothers, to the quality of the various teams I have built during my time as a director," he added.
Chivas Brothers Chairman and chief executive Laurent Lacassagne said: "I have greatly enjoyed working with Douglas for nearly 20 years, and would like to thank him very warmly for his pivotal role in developing our Scotch whisky business during a dynamic period of growth and change in the industry.
"Most recently, I'd like to commend him for his excellent work bringing Dalmunach Distillery into production – a fitting end to such a distinguished career, in the place where it all began. On a personal level, I have greatly enjoyed working with Douglas and I know I speak for everyone at Chivas Brothers when wishing him a long and happy retirement."
Mr Cruickshank lives close to Aberlour distillery and has two adult children – one an artist and the other who has followed in the family footsteps to work in distilling at Chivas Brothers.