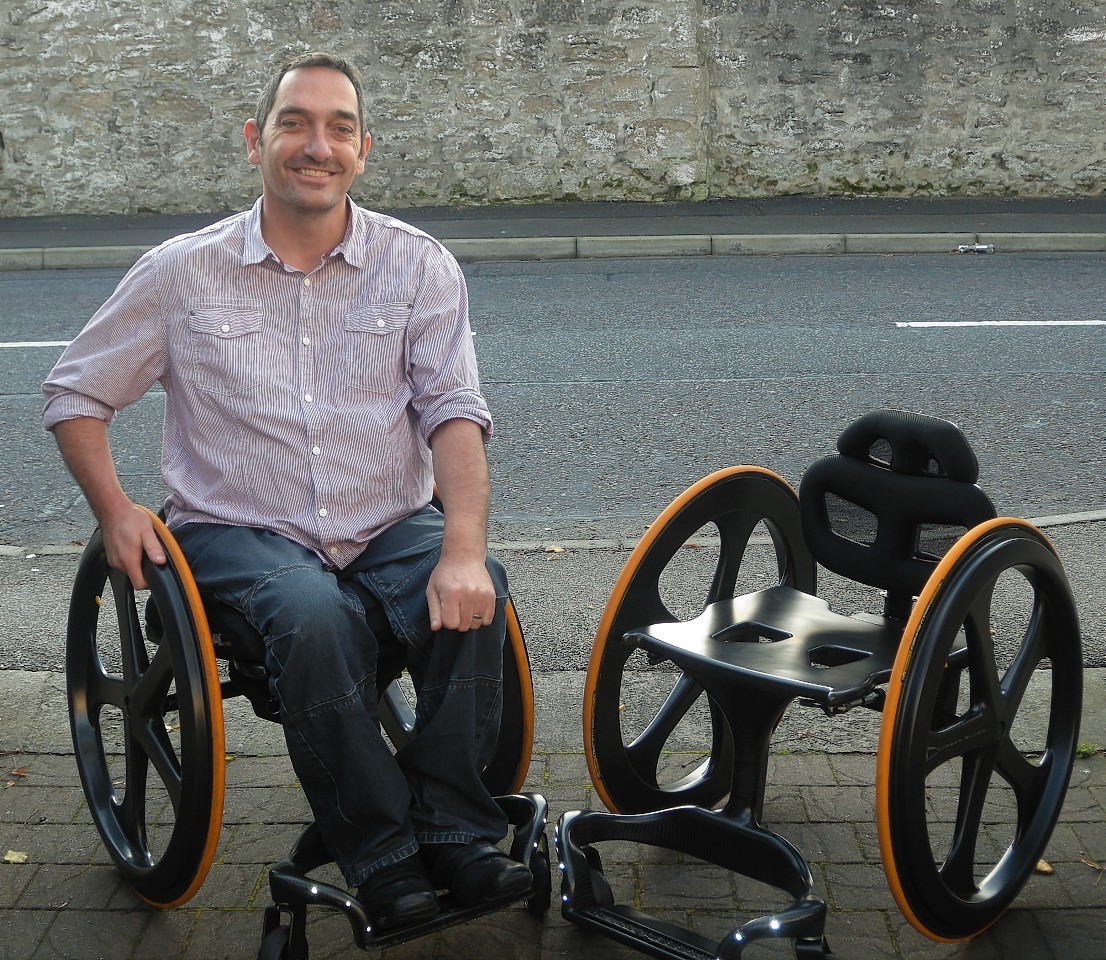 A disabled north man's efforts to revolutionise the design of wheelchairs earned him his place among 36 entrepreneurs sharing more than £1million in funding and prizes in the latest Scottish EDGE Awards event.
Andrew Slorance, who runs Nairn-based wheelchair design business Carbon Black System (CBS) with his wife, Mary, was one of 16 overall winners at the awards ceremony in Edinburgh.
The list of enterprises gaining the top honours also included Invergordon architectural design firm CLDB, which specialises in low-energy buildings using locally sourced and sustainable materials.
CLDB boss Matt Stevenson had previously been crowned as the most promising emerging director in the Highlands and islands at the Institute of Scotland Director of the Year Awards.
The bulk of the Scottish EDGE cash, £900,000, went to the overall winners after a gruelling Dragons' Den-style session to select the most promising start-up businesses that will bring the maximum return for the Scottish economy in terms of growth and jobs.
CBS and CLDB came away with £100,000 and £50,000 respectively.
A further £75,000 was awarded to 11 Young EDGE (founders aged under 30) winners, while 11 Wild Card EDGE (early stage businesses) successes shared £100,000.
Wild Card award winners included Acc+Ess Protocab, based at Bowermadden in Caithness, which has developed a wireless control system for model railways.
Scottish EDGE chairman David Shearer, who headed a panel of top business figures judging the entries, said: "We heard from many excellent businesses…and those which have been selected to receive funding are the cream of the crop.
"Young businesses in the growth phase are the engine of the economy and we are delighted to be able to support the most promising of these firms with the funding they need to thrive. Many have ambitious plans that our funding injection will set in motion immediately.
"I'm sure that many of our finalists are destined to become well known as they grow and generate wealth and jobs."
The judging panel also included Highlands and Islands Enterprise (HIE) regional development director Caroll Buxton and James Watt, chief executive of Aberdeenshire brewing firm BrewDog.
Aimed at identifying and supporting Scotland's top early stage and high growth potential entrepreneurs, the funding competition received more than 250 applicants.
The weekend awards were presented by leading Scottish businessman Sir Tom Hunter, who backs the initiative alongside the Royal Bank of Scotland (RBS) and Scottish Government, and took place at the RBS Conference Centre.
Deputy First Minister John Swinney said: "I applaud the can do spirit of all the entrants to this year's competition. Their positive attitude reinforces Scotland's position as a world-leading entrepreneurial and innovative nation."