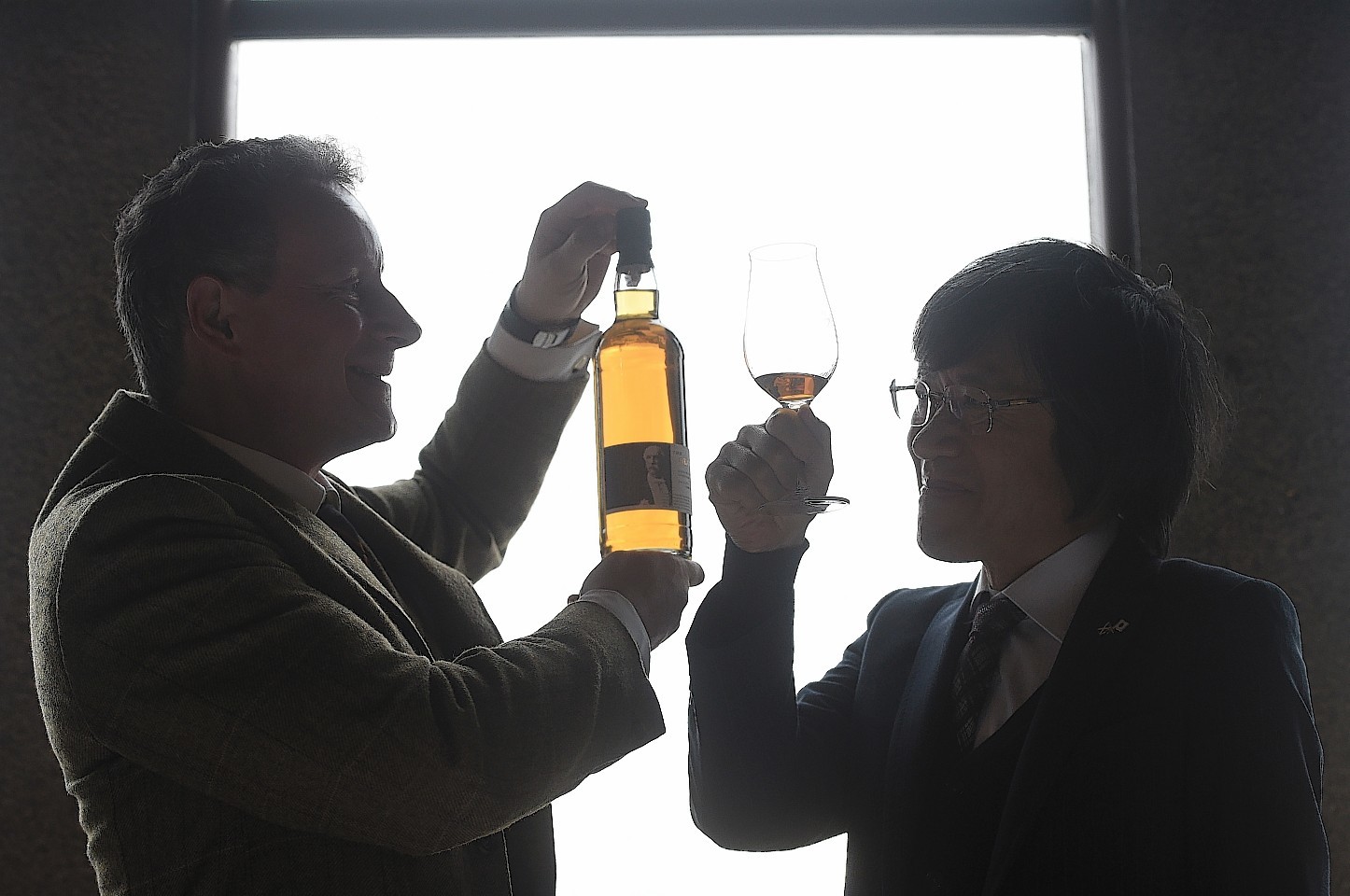 The long history of Scottish-Japanese cultural collaboration was celebrated yesterday with the launch of a hybrid whisky that is set to sell for over £1,000 a bottle.
The ultra-premium version of the dram, a blend of Scotch and a rare Japanese whisky from a closed distillery, was toasted at simultaneous  launches in Aberdeen and Tokyo.
A different version of the dram – known as The Glover – will also be sold at a slightly less premium price, at around £100 a bottle.
The unique new dram is designed to excite whisky connoisseurs in Scotland, Japan and around the globe.
The whisky is named after Thomas Blake Glover who was born in Fraserburgh and raised in Aberdeen, but who left Scotland for Japan at an early age.
He would later be known as the "Scottish Samurai" because of the impact he had on the modernisation of Japan in the 19th Century.  Mr Glover would ultimately be the first foreigner to receive the Order of the Rising Sun from the Japanese Emperor in recognition of his many achievements.
The whisky was blended by Alex Bruce, managing director of independent bottler Adelphi Distillery, which recently launched a distillery on Ardnamurchan. The blend includes rare liquid from the Hanyu Distillery, which closed down fifteen years ago after producing whisky since 1980.
A dash of whisky from Glen Garioch Distillery was also added "in homage to Mr Glover's home in Aberdeenshire, to complete the flavour profile".
Blender Mr Bruce also has connections to Japan, being the Great-Great Grandson of the Earl of Elgin who signed the first treaty of Trade and Amity between the UK and Japan in 1858.  It was this treaty which paved the way for British traders and entrepreneurs such as Mr Glover and his peers.
Mr Bruce said "I'm delighted to be involved in such an exciting and unique project. This brand is set to strengthen an already strong bond between Japan and Scotland."
He explained, "We wanted the final whisky to present the unique flavours of both casks, but also to be even more than the sum of its parts."
The project was devised by Jim Millar from Arbroath who holds the Consul General of Japan's Certificate of Commendation and the Scottish Samurai Shogun Award for promoting the relationship between the two countries.
He said "This whisky is an excellent way of acknowledging the life of Thomas Blake Glover, and celebrating our important relationship with Japan, which continues to flourish, especially in the fields of trade, culture and education".
The event was attended by Councillor Jenny Laing, Leader of Aberdeen City Council, Mr Hajime Kitaoka, the Consul General of Japan in Edinburgh, and Lord  Bruce, Honorary Patron of the Japan Society of Scotland.