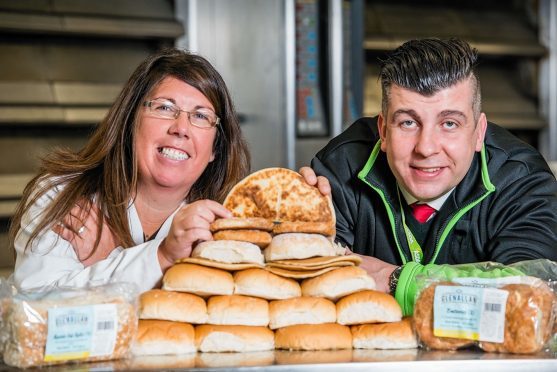 Bakeries in Scotland – including two in the north-east – have upped their listings of buns and brioches with Asda, bringing in an extra £275,000 in sales.
Murdoch Allan, a family-run bakery in Aberdeenshire , has recruited 10 employees in order to provide baked goods for 47 Asda supermarkets across Scotland.
The contract will see the Hatton-based firm selling the multiple retailer an extra £150,000 worth of giant soft white rolls, floury buns, thin pancakes, "mega buns", soft white and brown rolls and a rustic oat roll.
Craft bakery JG Ross has also extended its work with Asda. Having supplied the supermarket chain for 10 years, the award-winning Inverurie bakery will now provide softies, Glasgow rolls, butteries, muffins, girdle scones, and crushed wholemeal rolls to be stocked across 12 stores across North Scotland.
The firm started listing product in the Peterhead store when it opened in February 2005. The business started life in 1962 from a small cottage bakery in the village of Auchleven, and now employs 320 local people working in 21 different sites.
Tayside and Fife-based Tower Bakery will have an additional seven lines added, and increased listings to a further 10 stores across the Fife region.
Paul Allan, managing director for Murdoch Allan, said the supermarket contracts have helped boost the business.
He said: "Sales and profit have increased since we started supplying the supermarket, and we really appreciate the support the supermarket gives to local suppliers in Scotland.
"Asda really embraces the local supply part of their business and have a dedicated buyer based in Scotland, who knows the market well which provides real added support."
Asda said the increased supply deals were due to growing demand for "morning goods".
Brian O'Shea, Asda's regional buying manager for Scotland, said: "Murdoch Allan, JG Ross and Tower Bakery products are premium quality and will give customers a new and local choice, particularly with the trend for bakery goods continuing to boom and those with a local and traditional offer proving most popular with customers.
"Feedback from everyone who has tried the new lines has been incredibly positive so we look forward to working with the businesses closely and hopefully increasing the range of products available in–stores in due course."