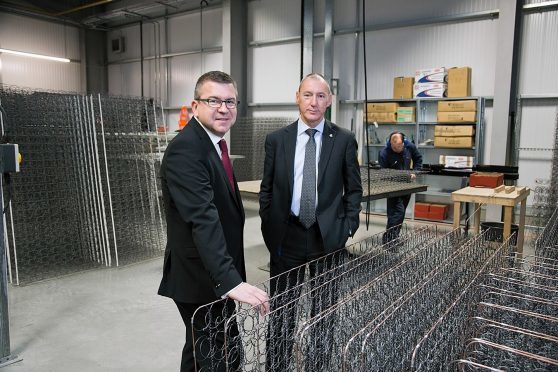 A manufacturer that provides the Queen's bed at Balmoral has signed a deal to sell its mattress in one of the north-east's most prestigious department stores.
Aberdeen-based Glencraft, the social enterprise that employs blind and partially-sighted workers, will supply the mattresses to Celebrations of Turriff.
In June the company sealed a deal with Argos to sell its products through the retailer's website.
Hotels including the Chester Residence, the Marcliffe, Gleneagles, and the Bonham in Edinburgh are already listed among the firm's clients.
Other customers include oil rigs and university halls of residence, while the company has held its royal warrant at Balmoral with four generations of the House of Windsor.
Glencraft, which has been making beds and mattresses since 1843, fell into administration in November 2009 but was rescued by Bob Keiller, who at the time was chief executive of Production Services Network (PSN) before its takeover by Wood Group and who is about to take over as chairman of Scottish Enterprise, and Duncan Skinner, who was PSN's chief financial officer and is now Glencraft's chairman.
They converted the company into a social enterprise so that it could retain its charitable status.
Glencraft currently has about 45 members of staff, around 80% of whom are disabled or come from a disadvantaged background.
All of its profits are "re-invested to provide career opportunities for disadvantaged, disabled and visually impaired employees".
The company produced 7,500 mattresses last year and aims to grow output to between 10,000 and 12,000 in the coming years, increasing its turnover from £1.3million to around £2million in the process.
Robert Stephen, managing director at Celebrations of Turriff, said: "I was hugely inspired when I visited Glencraft's factory – the level of craftsmanship that goes into making each and every bed is admirable and we are proud to support such a fantastic enterprise in the North-East.
"We strive to give our customers the greatest selection of high-quality merchandise, and we're proud to be a stockist of Glencraft's beds and mattresses, which we believe rival many other beds and mattresses on the market."
Graham McWilliam, general manager at Glencraft, added: "We feel this is a key collaboration for Glencraft, and we are particularly pleased to now be able to offer our products to Celebrations of Turriff customers.
"We aim to give the soundest nights' sleep to as many people as we can and we're sure that working with other well-respected and trusted independent stockists is a way in which we can further grow awareness of our brand, the products we offer and our heritage.
"Added to that, it's further evidence as to the quality of our beds and mattresses and we're delighted Celebrations of Turriff believe in Glencraft and our ethos."
Celebrations of Turriff, which is a family-run business, was established in 1994 and operates a gift shop and restaurant as well as its department store, which stocks furniture, homeware and soft furnishings.