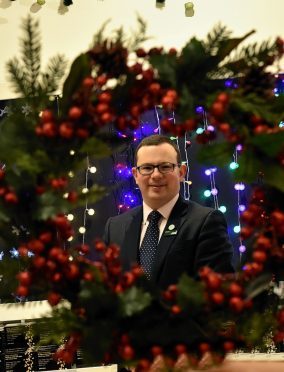 As the shoppers rush home with their treasures, it is likely that at least one of them might be in a bag from John Lewis.
Except we don't use as many branded bags from shops anymore since the 5p levy reduced their usage by 90% in Scotland. But Robert Garnish, head of branch at John Lewis Aberdeen, does note that the firm recently made its first donation to north-east charities funded by the carrier bag tax.
It has not been the best year for the retailer's northern-most outlet. While across the bellwether of the middle-class consumer's 46 UK shops, sales are rising, they were down across its three units in Scotland. Of these, Aberdeen was the worst performer, down 15%. This compared to Edinburgh, which was down 5.5%, and Glasgow, down 2% in the week ending 12 December.
The firm's sales reports mirror what groups like the Scottish Retail Consortium have been saying for months. As the wider UK economy picks up thanks to the lower price of petrol, the collapse in the value of a barrel of crude takes its toll on Aberdeen in particular and the rest of Scotland in general.
"If you track our sales levels over 26 years and you were to plot that on a graph against the ups and downs of a barrel of crude oil, the two would almost identically match each other," notes Mr Garnish. "No other store in the whole of John Lewis does that. It is a unique catchment."
The energetic Mr Garnish has been running the show in Aberdeen for just over a year, but he was here before for a three year stint as operations manager earlier in his career.
Despite the gloom that has settled over the city in 2015, Mr Garnish has seen some interesting trends emerge. His store, for example, has had an unusually good year in both children's and men's clothing sales, while its recently introduced luxury hand bag section has "performed way beyond expectation", he says.
"That is where we've seen that the city still has a real passion for new product," he adds.
Although he hints he might like to make his next career move to the group's Heathrow Airport branch ( "I'd love to work in an airport. I'm possibly an aviation geek," he says), he feels connected to the region both through his wife who was raised here and the retailer's 26-year reign in the city.
The Yorkshireman joined the partnership 15-years ago as a graduate trainee after studying at the University of At Andrews. During that time he has worked in 11 John Lewis shops, which gives him an interesting basis for comparison.
"Actually when you consider all the brands that are available here, for a city of this size – and I've worked in a few other cities of a similar size – the brand offer is very strong," he says. "The challenge though is the offer is very dispersed across the city centre."
He handles the sometimes vexed question of Aberdeen's city centre retail hodgepodge well.
"In the space of a square mile, you have the Bon Accord Centre, Union Square, the Trinity Centre and the Academy as a niche destination. Four separate shopping hubs which are not particularly well connected. The connectivity is not as good as it could be," he says.
"Often customers will make a conscious decision to either go to Union Square or to come here (Bon Accord).
"If you want to do both, you can trek it on foot: Now lets be honest it is not far. But it is not obvious how to get there. Or if you get in your car, it will probably take you 15 to 20 minutes.
"In the future, through organisations like Aberdeen Inspired, the chamber and the council, there is a great opportunity to enhance what we have already got.
"That is where things like the masterplan will be really valuable and where we are really eagerly anticipating more about the city region deal and what that might offer.
"We have got an infrastructure, we just have to keep improving it to be sure our residents and our visitors are right at the heart of what we do.
"The masterplan gives us an opportunity to revisit some of the things that perhaps were missed opportunities in the past.
"The critical thing that will make that happen is the spirit of collaboration.
"We need to see all the aspects of the local economy – which is dominated by the energy sector, but there is also tourism and retail – to play a role. Helping them find their voice and contribute will be key."
But for those who may be awaiting the opening of John Lewis' sister supermarket, Waitrose, there is still no change in its plans for the north-east.
Since launching regular grocery deliveries to Aberdeen from the group's Stirling branch, the demand has been high and the number of – very limited – slots are due to go up from eight a week currently, to 12.
"We aren't in a position to open up a shop now. Never say never – but not now."
Q&A
Who helped you get where you are today?
Andrew Murphy, currently the partnership's group productivity director, was head of branch in Aberdeen and my line manager when I worked here.
He was instrumental in my career progression – not because he helped me secure roles. He gave me the time and energy and coaching to help develop my leadership style and to help me evolve and get better at the stuff that perhaps didn't come naturally to me. I've always looked up to him as an inspiration. I wouldn't be in the seat he once sat in were it not for the time and energy he gave me as me as one of his line reports.
What do you still hope to achieve in business?
In 15 years I have worked in 11 different shops which have all helped me build up my jigsaw puzzle of life in retail. I always embark on every job I do knowing that at the point at which I move on from that job I can be confident I've left it in a better place.
I love working in retail. But that said, if I could do any job at all tomorrow I'd love to work in an airport. I'm possibly an aviation geek. Retail is where I see my future – but…
If you were in government what would you change?
I look across the spectrum of government – local, national, UK, further afield. And whilst I recognise there are key differences of view point and opinion, and that is what makes politics healthy, actually for the good of bodies providing key services, I would want to foster a greater spirit of collaboration
When I think about the importance of education and health and the impact that can have on people. I worry we sometimes don't place those people right at the heart of decision-making.
What are you reading or watching lately?
My favourite TV programme is Pointless. It is the useless stats and nuggets of information, I think it is fascinating. But a large part of my time outside of work is devoted to my family. Children are a brilliant antidote to work.
What do you drive and what do you dream of driving.
I drive a VW. I'm really happy with my car. I take the train a lot. I'll be sorry to give it back when the time comes.
What would your wife and daughters say about you?
My wife would probably say I was very caring and family focused. And she'd say I'm quite stubborn at some times.
My daughter would say I'm very cuddly and that I tell funny jokes. At least somebody laughs at them.
What charities do you support?
Through work we have our communities matter scheme where we donate £3,000 every three months to split between three charities chosen by our customers.
In the last few months we made our first donation to charities in Aberdeen as a result of our carrier bag levy.
Outside of work I have two members of my family who suffer from multiple sclerosis, so I've been a big supporter of MS.