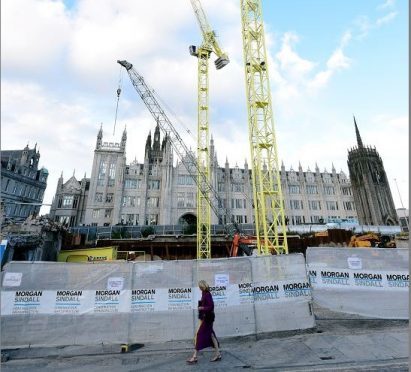 Aberdeen's £107million Marischal Square complex is attracting interest from tenants despite the north-east's "difficult" property market, the developer behind the project said yesterday.
Muse Developments' boss in Scotland was speaking after the firm's London-based parent company, Morgan Sindall Group, revealed its revenues had increased 7% to £2.4billion in 2015.
Operating profits at the group's urban regeneration division, which includes the activities of Muse Developments, increased to £12.9million from £10million a year earlier.
Muse appointed the group's construction and infrastructure division to build the Marischal Square development, which will consist of 175,000sqft of office space, a 126-room Marriott hotel, and seven restaurants and bars.
The project has come in for criticism from protesters who say it will block the view of the historic Marischal College and Provost Skene's House.
Doubts about the business case for the development have also been raised in light of the drop-off in hotel occupancy rates and demand for office space amid the oil and gas industry downturn.
But Muse previously insisted the complex will complement its surrounds, and said yesterday there has been no shortage of interest from prospective tenants.
Stephen Turner, Muse's regional director for Scotland, said: "2015 was a positive year for Muse in Scotland, as well as across the UK.
"We continued to work closely with Aberdeen City Council to progress the transformative mixed-use Marischal Square development in Aberdeen city centre.
"Work started on site last April and the progress is generating tenant interest despite a difficult market in Aberdeen."
Winebar chain All Bar One and high-end fast food chain Burger and Lobster are believed to have shown an interest in moving into the complex, which is slated for completion in 2017.
It is thought that no companies have signed on the dotted line, however.
Morgan Sindall's construction and infrastructure division's other Scottish projects include work on rail links between Edinburgh and Glasgow.
The group wrote down £46.9million in exceptional items relating to "old" construction contracts at the Faslane nuclear submarine base, giving it adjusted pre-tax profits of £34.3million for 2015, up 36% year on year.
The group put its dividend for the year up 2p to 29p. Its shares closed 2% higher to £7.20 on the London exchange yesterday.