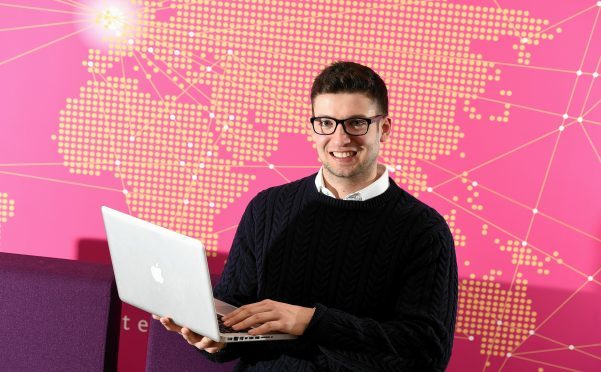 James McIlroy is the chief executive of his own start-up biotechnology company, which is impressive in itself.
Add to that the fact he is only 23, and a fourth-year medical student at Aberdeen University, and it becomes more impressive still.
I was not sure exactly what to expect when I met him. I half suspected he might have graduated already, but hadn't got round to updating his Linkedin profile yet. Remembering my own student days, I couldn't imagine anyone being quite so enterprising at that stage in life.
But there were tell-tale signs that the student still lives large in him, namely, the sandwich and wrap combo from the "reduced to clear" section of a supermarket.
Being careful with money is a useful trait for any entrepreneur trying to get a business up and running. For sure, it's a curious idea for a business. EuroBiotix, set up in November 2014, aims to provide screened and ready-to-use faecal transplant preparations to doctors working in the NHS.
Think of it as a blood bank, but with poo, instead of blood.
Why on earth would you do that? Well, there exists a procedure called faecal microbiota transplantation (FMT), which involves implanting healthy donor faecal matter into the infected bowel of a patient suffering from the superbug Clostridium difficile (C.diff).
Trials have shown this procedure can cure 81% of patients compared to 31% using conventional methods.
The idea didn't come to Mr McIlroy in a dream.
He said: "I came across FMT when I was researching the role of gut microbes in obesity. I could not believe it was a real medical treatment. But sure enough, I did more digging and realised how positive it is but saw there was no infrastructure to provide treatment."
Faecal transplants are largely inaccessible and expensive. For Eurobiotix, the goal is to solve that problem with its "poo bank".
On the face of it, you might think finding donors would prove a difficult task, considering how troublesome it seems to be to find blood and sperm donors in the UK.
But Mr McIlroy is untroubled: "Finding donors is what I'm least worried about. I don't need many at first and a lot of people have expressed an interest. It's an easy and natural thing to do and you might save someone's life."
Glasgow-born Mr McIlroy, who moved to Aberdeen in his early teens after seven years in Brunei, said people were becoming more enlightened in their attitudes to the treatment.
He said: "When I started EuroBiotix some people would say 'wow', some laughed, some pulled faces, but the point is this treatment is no joke – it's very important.
"I'm starting to see a more open-minded approach from clinicians and the public. Part of our mission is to raise awareness as an all-encompassing social enterprise."
The main obstacle to be negotiated is financing. Mr McIlroy has raised about £30,000 so far, via a variety of sources, including the Scottish Edge, a Dragon's Den-style competition for Scottish start-up businesses.
But Mr McIlroy's sights are aimed high – he's targeting £250,000, which is a lot for a start-up community interest company.
He said: "I'm just about to raise the first round of finance. I'm engaging with angel investors and social investment schemes. Everything is ready now – I just need the funds to go and act on it.
"We need to make our first sale to clinicians working in the NHS. There are clinicians who have performed this treatment but need to find donors and process samples.
"It's uncharted territory but I'm confident I can raise the money and in my ability to go through with the plan because I feel so passionate about it."
Mr McIlroy's passion and drive is not in question.
He typically gets up at 5am to tend to his e-mail inbox before turning his attention to his studies. All in, it's a 12-hour day, every week day, with plenty of extra commitments at the weekend, which is something not many students have to deal with.
He said: "I just think about the end goal. I think about myself and where I'll be in five to 10 years' time. That's enough to keep me motivated."
Mr McIlroy admits the timetable isn't sustainable indefinitely. He likened himself to Neo from The Matrix, in that he too is faced with a choice between taking a red pill or a blue pill. One pill represents a career in academia, the other in business.
At the moment, Mr McIlroy is inclined to follow his entrepreneurial ambitions.