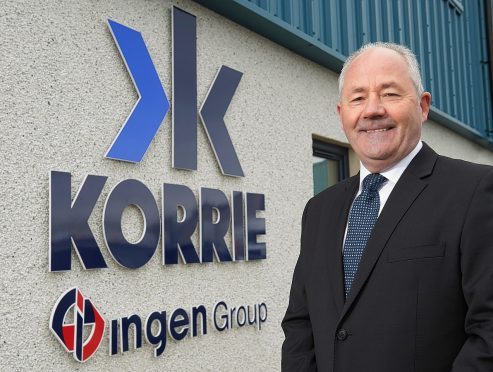 An Inverness engineering firm has won contracts worth up to £2million at military bases across Moray and the Highlands and Islands.
Korrie said the mechanical and electrical maintenance contract on the Army depot at Fort George and the RAF bases at Lossiemouth, Kinloss, Buchan and Saxavord would see them take on 27 employees.
The contract from Carillion Amey comes after it emerged the firm was acquired by a Glasgow-based firm, Ingen Technical Services last year.
The company said Ingen was formed in June 2015 to bring together Lanarkshire-based Dalziel Services and Korrie.
Korrie co-founder Donnie Fraser, who has become an executive director of Ingen, said: "This is an excellent opportunity for Korrie in a new aspect of our business and we're very pleased to have been selected for the contract.
"The maintenance work was previously undertaken by a national contractor and we have taken on 21 of their workforce to provide continuity of service plus we've employed a further six people."
Mr Fraser said the firm would be looking also to expand into Aberdeen and Dundee.
"While the Highlands and Moray remains our core area, we are looking to extend our geographical focus further along the east coast. We have not to date had a prescence in Aberdeen or Dundee, however, we are planning to address that going forward."
Korrie said it generated a record £13million turnover – a leap of 30% – in its fifth year since Mr Fraser launched it in the Highland Capital. The firm has divisions in plumbing, mechanical, electrical, maintenance, renewable energy as well as maintenance with electrical, gas and oil while further development of its small works division is another key aim in the coming year.
"We are having a very strong start to this year with 75% of forecast revenue already secured, and this includes target growth of a further 25 to 30%," Mr Fraser added.
"Excellent relationships with existing clients, including major and local contractors such as Robertson, Morrison, Keir and Compass, together with The Highland Council and Albyn Housing, has gained us high levels of repeat business.
"At the end of year one we employed 40 people and over the past 12 months our numbers have significantly increased from 127 people at the beginning of 2015 to 160 people currently, making a positive contribution to the North economy.
"We have also set great standards in developing our own local talent and we now have 33 apprentices and three graduates.
"Individually and collectively at Korrie we have proved to be a very strong business. As part of Ingen Group, I see further exciting times ahead."
Korrie's staffing increase has led to an extension being built to their office complex at Carsegate Road North, Inverness, which opens next week.