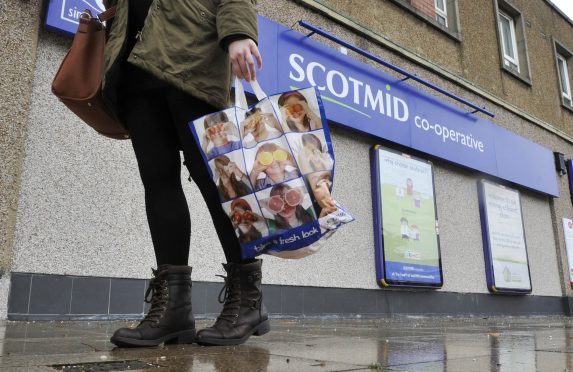 The Scottish Midland Co-operative Society (Scotmid) outshone its retail sector competitors in the second half of last year to record a 71% increase in annual profits.
Bosses at Scotland's largest independent retail co-operative also said trade had remained "solid" in the north-east despite the economic downturn in the region.
But chief executive John Brodie added that caveat that changes in economic conditions tended to take longer to "filter through" to Scotmid, which is "further downstream" than businesses in other industries.
Mr Brodie also said Scotmid's supply deal with Castleton Farm had been a success and that there were plans to stock the Fordoun-based fruit producer's goods to more of its stores.
Scotmid said its food retail business had managed to stay ahead of the curve by opening in-store bakery counters in another 24 locations.
It also started selling hot takeaway products like filled rolls, soup and coffee in more outlets.
The Edinburgh-headquartered company, which operates a combined total of 350 convenience food stores, Semichem outlets and funeral parlours, said it was pleased with its performance in tough year for the market.
Trading profits at Scotmid were up 4% to £5.7million for the year ended January 30, while pre-tax profits soared 71% to £5.4million.
For Scotland's grocery market as a whole, like-for-like food sales dropped by an average of 2.8% during the period under review, according to the Scottish Retail Consortium.
But turnover at Scotmid fell by 3% to £371million, a decline the company pinned on the impact of store closures, as well as the fact that its 2014/15 results spanned a 53 week period.
Scotmid said it had succeeded in renegotiating leases at a number of its Semichem outlets, but that some landlords had been unable to lower the rent to match market conditions, leading to seven closures.
Scotmid employed 4,418 people on average in 2015/16, which is 242 fewer than in the previous year. The number of full-time staff did go up during the year, but the part-time headcount decreased by 286.
Scotmid's funeral business picked up due to an increase in death rates in the first half of its financial year, while its commercial and residential property division was buoyed by an upturn in rental income.
Mr Brodie added: "In the context of the current retail market, the additional cost pressure from the earlier than anticipated introduction of the National Living Wage will have a significant impact for the next few years, especially on our food business.
"The society will therefore, take the tough decisions required, accelerating continuous improvement initiatives and continue to innovate to drive the business forward."