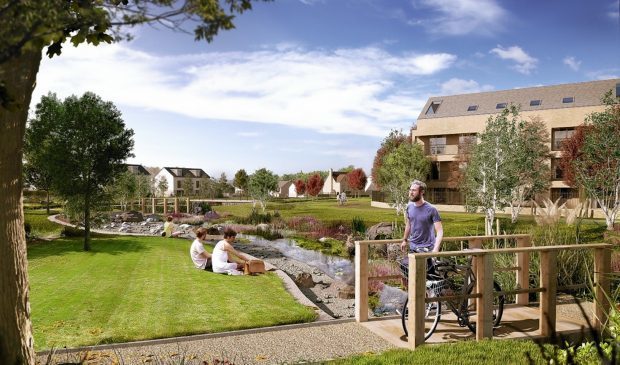 Stewart Milne launched a process to sell land at its flagship £1billion housing development at Countesswells to rival developers.
The group has launched Countesswells Development, a wholly owned subsidiary of Stewart Milne Group, to manage the sale of 17 acres of the site. The firm said this would provide room for 260 of the expected 3,000 homes earmarked for the land. The first three land parcels are due to be released at the end of May.
The group said its division Stewart Milne Homes will be building around half of the private homes on the site, with other developers being given the chance to build the remaining units.
Jim Fitzsimons, Countesswells project director, said: "Giving other developers the opportunity to be part of this will deliver the distinct and diverse neighbourhoods which will be at the heart of bringing the community to life."
He added that Stewart Milne would retain control of the overall design of the new village.
"Creating a successful community is about more than building homes; it's about ensuring the quality and amount of different types of homes and their location within the site and how they interlink with each other and with the community facilities," he said. "Countesswells development briefs will provide guidance to developers on densities, streetscapes and public realm to ensure that the high standards of design and build, and the identity of the community are adhered to."
The firm has appointed Shepherd Chartered Surveyors and Savills to sell the first parcels of land.
Chris Grinyer, managing partner at Shepherd Chartered Surveyors Aberdeen office, said: "Countesswells will have great significance for the Aberdeen housing market over the next 15 years. The land packages coming to market represent very attractive opportunities for developers as they will be serviced and consequently capable of early development.
The prestigious nature of Countesswells will appeal to both developers with an existing presence in the north-east and also those wishing to expand into the region."
Graham Reid, development director, Savills Aberdeen, said: "We are very excited to be working with the delivery team to bring Countesswells to life. We have been impressed with the clarity of vision and attention to detail that Stewart Milne Group has applied to both the masterplan and phase one. Given the prime location, on the western edge of Aberdeen, the connectivity and sense of place, the project will represent a very attractive proposition for developers."
The development of the new community will be phased over 15 years, and is expected to support 1,000 construction jobs in the region.
acilities within Countesswells will include a secondary school and two primary schools, healthcare facilities, and local business units.